Brazilian industrial output grows for a second month during May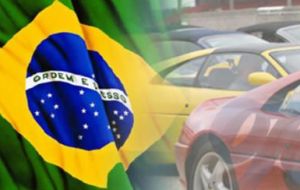 Industrial output in Brazil rose for a second straight month in May, government data showed on Tuesday, underpinning hopes that the economy will not fall back into recession despite an escalating political crisis.
Industrial production rose 0.8% in May from April after seasonal adjustments, statistics agency IBGE said. Production in May grew 4.0% from a year earlier, the fastest increase since February 2014.
Output grew on a monthly comparison in 17 of the 24 sectors covered by IBGE. Automobile production jumped 9.0%, supported by strong exports that also helped Brazil's trade balance record their two largest monthly surpluses on record in May and June.
Brazil's economy is expected to grow 0.4% in 2017 after two years of deep recession, according to a weekly central bank poll of economists. Analysts and policymakers have cut their estimates for this year's growth after a graft scandal threatened to topple President Michel Temer's year-long administration.
Industrial output, despite its recent improvement, remains 18.5% below its June 2013 peak, IBGE said.
"This increase needs to be put into context," IBGE economist André Macedo said. "There is a lot to be done for industry to recover the losses of its recent past."