Riot police in Hamburg clash with thousands at G20 "Welcome to Hell" march
Friday, July 7th 2017 - 07:28 UTC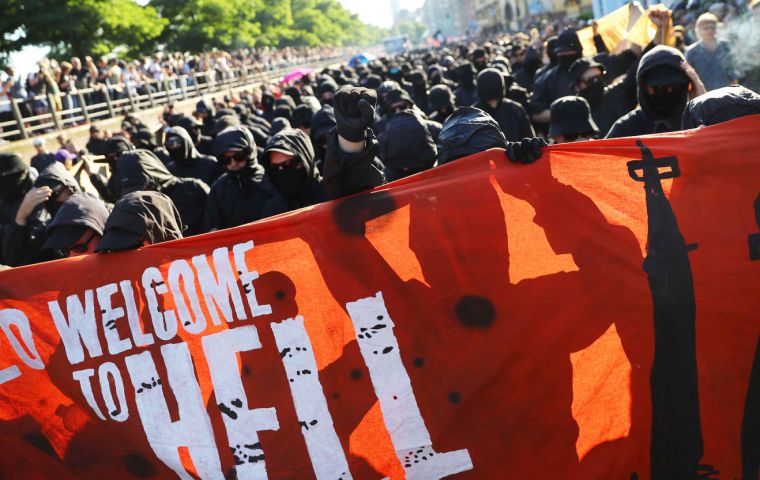 German riot police clashed with thousands of protesters in Hamburg on Thursday evening as world leaders, including US President Donald Trump, arrived in the city ahead of Friday's G20 summit. Throughout the afternoon and night, police used water cannons as protesters threw bottles and smoke bombs during the anti-capitalist Welcome to Hell march, which began about 2 miles from where the summit will be held.
Firecrackers and bottles were also thrown at riot police who attempted to disperse the crowd as police helicopters circled overhead. The clashes began after police ordered many protesters to remove their masks.
At least 76 officers were hurt, including one who had a serious eye injury after a firework went off nearby, Hamburg police said. It was unclear whether that figure included officers whose sight was affected by someone pointing a laser at their helicopter. They didn't give the number of injured protesters and bystanders, but said one person had been arrested for throwing a bottle.
There were about 8,000 protesters, according to a police estimate, a far cry from the 100,000 expected on the two days of the summit. The protest dissipated around midnight.
There were also periods of calm during the day, where demonstrators marched through the port city in northern Germany, home to some 1.8 million people. But after nightfall there were flames in the streets.
The G20, founded in 1999, meets each year. It includes 19 countries and the European Union and accounts for approximately 80% of global GDP. Around two-thirds of the world's population live in a G20 country. The leaders of the group of 20 meet July 7 and July 8.
During the two-day meeting, happening in German Chancellor Angela Merkel's birthplace, leaders are expected to discuss climate change, terrorism and migration.