UK will fund 21 projects from Argentine government agencies and civil society
Friday, July 7th 2017 - 06:00 UTC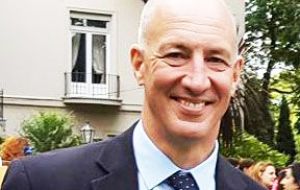 The British Embassy in Argentina has selected 21 project bids submitted by government agencies and civil society organizations which will award almost 10 million pesos worth of funding during the second half of 2017. The initiative follows on the spirit of the 2016 September Joint Statement.
The selected projects include several initiatives to strengthen anti-corruption mechanisms and ensure transparency at the different civil service levels. Support will also be provided to build capacity for infrastructure development, public-private co-operation and protection of competition.
Other initiatives that will receive funding from the British Government include the launch of a public innovation laboratory, the improvement of response mechanisms to people trafficking and sexual exploitation, the enhancement of open data programs, human rights promotion as well as knowledge transfer on legacy and infrastructure planning for large-scale sporting events.
Ambassador Mark Kent stressed the importance of bilateral co-operation and said the projects show that there is strong interest both from government and civil society in working together and making progress in areas of mutual interest, such as fighting corruption, people trafficking and promoting open data.
He also said that some of the projects follow on from the lines of work outlined in the Joint Statement of September 2016.
During the open call for bids that started at the end of March and beginning of April, more than 80 government agencies and civil society organizations from Argentina submitted their proposals, which were studied and rated by an Embassy committee.
Over the next few weeks, the implementers of the selected projects will complete the signing of the co-operation agreements with the Embassy and begin to execute the activities, which should be completed by the end of the year.
The funds for these projects (approximately £450,000) are part of a commitment by the UK to allocate 0.7% of its gross national product to programs eligible to receive Official Development Assistance (ODA).