Leopoldo Lopez released from prison to house arrest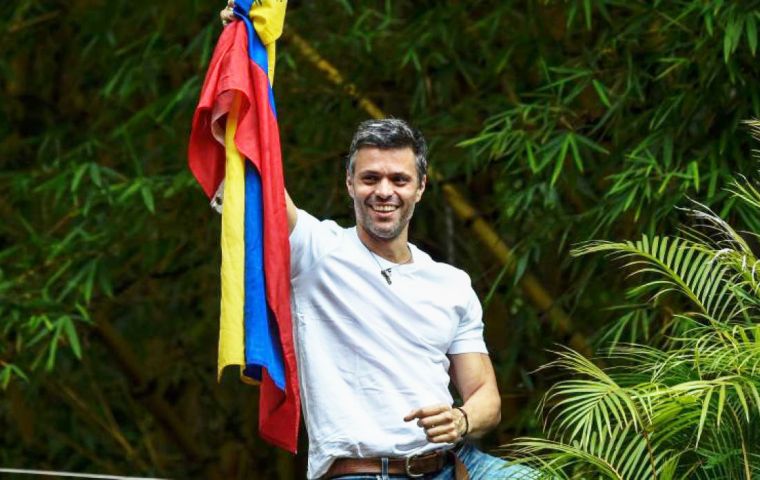 Venezuelan opposition leader Leopoldo Lopez, whose imprisonment has been a rallying cry for anti-regime demonstrators, has been released to house arrest because of health concerns, the nation's Supreme Court said Saturday morning. Lopez has been detained since early 2014 over accusations of inciting anti-government protests.
By the power of Supreme Court Judge Maikel Moreno, the criminal court of the Supreme Court Justice grants house arrest to Leopoldo Lopez due to health problems," the court tweeted.
A relative of Lopez's confirmed the news of the house arrest. Details about his physical condition weren't immediately available.
Speaking outside Lopez's home, National Assembly Vice President Freddy Guevara read the following statement from the released opposition leader:
"Venezuela, this is a step toward freedom. ... If continuing my fight for freedom means going back to Ramo Verde (Prison), I am ready to do it. ... I reiterate to you my commitment to fight until we conquer freedom. ... We reiterate that tomorrow, at the 100th day of resistance, we return to the streets and call for the people to vote in the July 16 plebiscite."
That vote will pose questions on the level of confidence in President Nicolas Maduro and seek public input on his rewriting of the Venezuelan Constitution.
Maduro said Saturday he accepts and supports the release of Lopez into house arrest.
"I, as head of state, accept their decision and I say more, I support the decision of the Supreme Court of Justice of the measure that substitutes house (arrest) for imprisonment," he said. "And you know of the absolute and profound differences that I have with Mr. LL."
The South American country is in the throes of an economic crisis that has spurred mass protests calling for a change of government, especially over the past few months.
Lopez's release follows several tumultuous days, including a physical attack by regime supporters on opposition lawmakers in the National Assembly on the nation's Independence Day on Wednesday.
Lopez's supporters rejoiced on Saturday morning, and crowds gathered outside his home. At one point, Lopez stood on the roof and held up a Venezuelan flag above the cheering throngs of people.
Other prominent leaders rejoiced on Twitter or in statements.