Falklands hopes complete clearance of minefields will be completed at the end of the decade
Sunday, July 9th 2017 - 00:08 UTC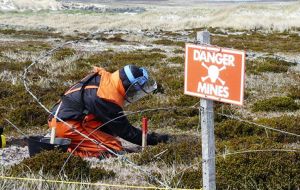 The Falkland Islands hope that the complete clearance of the minefields, a legacy of the 1982 Argentine military invasion, can be finalized by the end of the decade and in the meantime it is actively considering post-clearance management of those sites that are released, particularly in the area surrounding the capital Stanley.
Falklands lawmaker MLA Michael Poole provided a summary of the current and planned demining work, plus the post-clearance management plan, during a briefing of his portfolio at the Falklands elected Legislative Assembly.
In effect 29 minefields have been released this past summer with 42 disposal operations having taken place, with almost 4,000 mines and other explosive devices destroyed.
However, MLA Poole warned that upcoming work has slightly more complexity to it due to the potential environmental impacts in 10 or 11 minefields due to be cleared in the next season.
He explained that the Falklands' government is actively considering post-clearance management of those key sites, particularly that of the Yorke Bay Area. An active management plan similar to that at Gypsy Cove is likely to be the outcome. But that will be discussed in the appropriate Committee structure and decided upon in due course.
MLA Poole told the Legislative Assembly he, "hoped that the complete clearance of the minefields will be done by the end of the decade."
MLA Phyl Rendell agreed there needed to be a management plan over those areas as they were released but she also asked what was being done about areas recently released such as Rookery Bay with its Magellanic penguins.
MLA Poole responded by saying there would be a paper produced by the end of August which would discuss environmental management of all released minefields that have key wildlife with in them.
MLA Jan Cheek commented that people need to inform themselves of the changes proposed in the imminent Commons Management Bill.
"There is a small risk but people need to be aware of it that because of a changing definition of some of what we formerly thought of as common land as public land that the land could become marketed by developers", she explained. (Penguin News).-