London scare: Camden Market huge blaze under control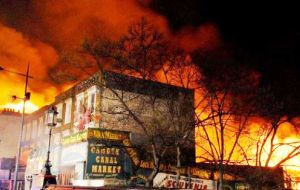 Firefighters in London have brought a huge blaze at the city's Camden Market under control. The London Fire Brigade said on Twitter the "fire is now under control but crews will be damping down into the morning".
The first, second and third floors and the roof of the building were on fire, the brigade tweeted earlier, saying more than 70 firefighters and 10 fire engines were on the scene. The cause of the fire was unknown and there were no immediate reports of any injuries or casualties.
In 2008 storage areas and shops at Camden Market were set ablaze, and adjoining houses were damaged. A major part of the market was closed for several months as a result.
The market is very popular with tourists and with Londoners, who are drawn to the area by the shopping and nightlife on offer.
"The fire was moving very fast," witness Joan Ribes said. "People were watching, but we were scared the building could explode at any time since there are restaurants with kitchens nearby."
A different part of the market complex was ravaged by a fire in 2008, and vendors were not able to operate for several months.
At least 80 people died in a devastating fire in London's 24-storey Grenfell Tower last month. Prime Minister Theresa May later said that 120 other high-rise buildings had failed fire tests.