Meirelles confident Brazil is climbing out of worst recession in history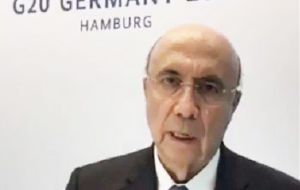 Speaking during the G20 summit in Hamburg, Germany, Henrique Meirelles gave more details about Brazil's economic recovery trajectory.
The Finance Minister said that the country is adding jobs in net terms and that unemployment is already stabilizing, with expectations that it will start falling as of the beginning of the second half of the year.
Meirelles also highlighted other positive signs, such as income gains, the fall in inflation and increases in the purchasing power of the Brazilian population.
"This is the merit of this government. The team is moving ahead with these reforms with the full support of the president, not only from the political point of view but also from the congressional point of view. We have all the necessary support to make the effort to approve the reforms," he said.
According to Meirelles, the Temer administration will continue to work for the country's growth and investors and consumers will continue to bet on the performance of its economic measures, whose results will last for years to come.
"The country is going to maintain this path of growth and recovery of the economy, and it is coming out - or more probably has already come out - of the biggest recession in its history", he declared