Brexit divorce bill: "I'm not hearing any whistling, just the clock ticking" says EU chief negotiator
Wednesday, July 12th 2017 - 21:26 UTC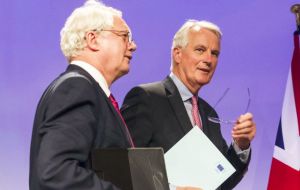 European Union's chief Brexit negotiator has slapped down Boris Johnson over his claim that Brussels could "go whistle" if it expected large sums from Britain as part of the withdrawal agreement.
Asked about the Foreign Secretary's comment, Michel Barnier pointedly referred to the tight deadline to reach a trade agreement ahead of the March 2019 date for Brexit
"I'm not hearing any whistling, just the clock ticking." Mr. Barnier said Britain must offer more clarity on its position on the "divorce bill" financial settlement with the EU – as well as the status of expat citizens and the nature of the future border with the Republic of Ireland – if it is to make progress towards a deal on trade arrangements after Brexit.
His comments came as credit ratings agency Moody's warned that the UK's creditworthiness was "under pressure" due to uncertainty over the result of Brexit negotiations and that Britain would face "materially weaker" growth if it failed to secure a good deal on trade.
Speaking after briefing European Commissioners in Brussels, Mr Barnier said the first round of negotiations with Brexit Secretary David Davis last month had been useful, but warned: "The hard work starts now."
With the second round of talks opening on Monday in Brussels, Mr Barnier said the UK needs to engage substantially on issues of citizens' rights, the financial settlement and borders, as well as future membership of Euratom and the treatment of goods placed on the market before Brexit.
"The EU positions are clear," said Mr Barnier.
"We now need to know the UK's position on each of these issues in order to make progress. We need to know on which points we agree and which points we disagree so that we can negotiate in earnest."
"My aim is to make good progress next week and at our next session in August on all issues. We cannot remain idle as the clock is ticking."
The UK must accept that it has financial obligations relating to previous commitments to pay into EU budgets, Mr Barnier said.
No figure has yet been put on the payment, but European Commission president Jean-Claude Juncker suggested it could come in at around 60 billion euro (£53 billion), while unconfirmed reports have put it as high as 100 billion euro (£89bn).
"On the financial settlement, it is essential that the UK recognizes the existence of financial obligations, which are simply the result of the period during which they were members of the EU, in particular in the current multi-annual financial framework".
Mr Barnier said that he will meet Scottish First Minister Nicola Sturgeon and Welsh First Minister Carwyn Jones, as well as Labour leader Jeremy Corbyn, in Brussels on Thursday to discuss the progress of Brexit talks, but he stressed that he will only negotiate with the UK Government.
Mr Barnier said it was a matter of "trust" for the UK to honor its financial commitments to EU programs.