Temer faces challenge in Congress from his potential successor
Thursday, July 13th 2017 - 08:41 UTC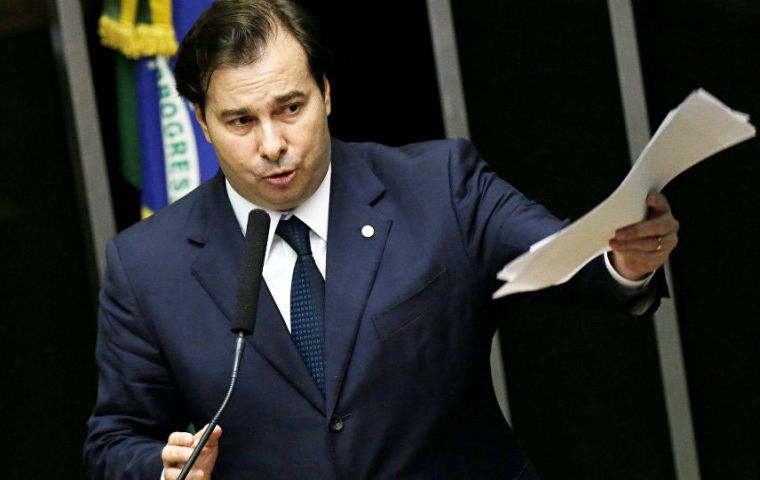 The speaker of the lower house of Brazil's Congress, Rodrigo Maia, vowed on Wednesday to fight any changes President Michel Temer makes to a landmark labor reform passed by the Senate a day earlier, highlighting fresh tension between longtime allies.

The comments pit Temer against the man who would replace him if Congress allows the Supreme Court to advance with a recent corruption charge against the president, a vote that Maia has said he would like to hold this week.

The bill, a business-friendly measure modernizing labor laws dating from the 1940s, passed by a wide margin in the Senate following approval in the lower house and will be sent to Temer to be signed into law.

Given that any changes in the Senate would have sent the bill back to the lower house for fresh debate, Temer assured senators on Tuesday that he would use a decree to tweak the legislation as they suggested after he signs it into law. But Maia rejected any such arrangement.

"The lower house will not accept any change to the law. Any (presidential decree) will not be recognized by the House," the speaker said in a Twitter post shortly after midnight.

Temer was charged last month in connection with a graft scheme involving JBS SA, the world's biggest meatpacker. Executives said the president took bribes to resolve tax matters and facilitate loans from state-run banks.

Temer has repeatedly denied any wrongdoing.

Under Brazilian law, two-thirds of the lower house of Congress must vote to allow a criminal charge against a sitting president to move to the Supreme Court. The vote could happen Friday or possibly be delayed until early August, after a congressional recess.