Falklands' post-Brexit concerns on tariffs and politics, outlined to House of Lords
Friday, July 14th 2017 - 05:55 UTC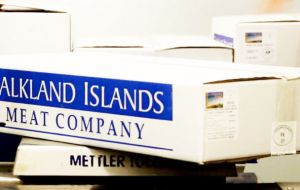 Concerns about tariffs on Falklands exports post Brexit, and political consequences were outlined by a Falklands' representative giving evidence to a House of Lords committee (the European Union Select Committee) last Tuesday.
MLA Roger Edwards informed the Committee there were three major areas of the Falklands economy that generated revenue and one area that concerned him from a political point of view.
MLA Edwards said wool and meat were produced as export crops. Currently, wool has no tariff or quota attached wherever it is sold and it is thought that even after Brexit, this state of affairs will remain.
The exported meat, which is slaughtered to EU Standards, is more problematic as about 60% is sold into the UK and the remainder into Europe. Therefore, post Brexit, tariffs could apply. However, the quantities of meat are quite small and there is a possibility that all of the Falklands produce could be absorbed into the UK market.
On Fisheries, MLA Edwards told the Committee the two main markets for the catches were the Far East (for Illex Squid, and some of Finfish), and Europe (which takes Loligo Squid, and the remainder of Finfish). Illex sales and revenue, should not be affected by Brexit MLA Edwards observed.
However, Loligo sales into Europe make up about 10% of the import through the Port of Vigo in Spain, and fill a similar percentage of the market in Southern Europe.
If quotas and tariffs were to be applied, MLA Edwards predicted, then that would reduce both the revenues and company profits, so leading to a loss of fishery development and also investment in new vessels.
As far as outward travel for Falkland Island residents was concerned, MLA Edwards assumed that, as the majority of people would be carrying a British Passport they would be treated in the same way as UK citizens residing anywhere around the globe.
However, MLA Edwards told the Committee that he did have one concern, post-Brexit; that was the political aspect of all EU member states recognizing and accepting that the UK Overseas Territories were a part of the UK.
He explained that all the signatories of the Treaty of Rome were obliged to recognize and accept the status of UK OTs.
Once the UK was no longer a Member State, nor a signatory to the Treaty of Rome, he believed the same obligations did not apply and the UK might well lose the support of the rest of Europe and some countries, such as Spain, might give greater support to Argentina over its mistaken and illegal claim to the Falkland Islands. (Penguin News).