Queen admits close allies UK and Spain "did not always see eye to eye" (Gibraltar)
Friday, July 14th 2017 - 06:47 UTC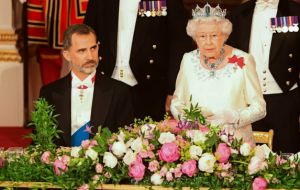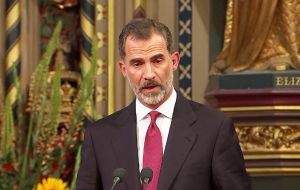 The Queen appears to have acknowledged the thorny issue of Gibraltar in a speech at the King of Spain's state banquet. In what is likely to be interpreted as a reference to the dispute between Britain and Spain over Gibraltar's sovereignty, the Queen said the two countries did not always see "eye to eye".
The monarch's comments came after King Felipe VI told both Houses of Parliament his country and the UK will overcome their "differences" over Gibraltar and find a solution "acceptable to all involved".
But Felipe's words drew a stinging rebuke from Gibraltar's chief minister Fabian Picardo, who said his comments suggested he was treating the Rock as something that could be "traded from one monarch to another" like a "pawn in a chess game". Mr. Picardo urged him to understand that Gibraltar "will remain 100% British".
With all senior members of the British monarchy among the guests, along with Theresa May and prominent members of the Cabinet, the Queen said: "A relationship like ours, founded on such great strengths and common interests, will ensure that both our nations prosper, now and in the future, whatever challenges arise."
"With such a remarkable shared history, it is inevitable that there are matters on which we have not always seen eye to eye. But the strength of our friendship has bred a resilient spirit of cooperation and goodwill."
With these Brexit talks already begun; Felipe highlighted the different European paths the UK and Spain have pursued, appearing to suggest how Britain turned its back on monetary union when it did not adopt the Euro as its currency.
Speaking in Spanish the King, who is on a three-day state visit to Britain, told the banquet guests: "In Europe, together, our governments have championed policies to guarantee the progress and well-being of our societies."
"It is true, in this regard, that we have made different choices concerning the dynamics of integration, but that is an integral part of our democratic tradition, rooted in the values of the European civilization to which our two countries will always belong."
The Queen was joined by the Duke of Edinburgh, Prince of Wales, Duchess of Cornwall, Duke of Cambridge and Prince Harry, highlighting the importance of the state visit to members of the Royal Family who are distantly related to the Spanish King.
The Duke of York, Earl and Countess of Wessex, Princess Royal and her husband Vice Admiral Sir Tim Laurence were also among the guests.
Labour leader Jeremy Corbyn, who was unable to make the event for diary reasons, was represented by Emily Thornberry but had earlier chatted with the Spanish King when he visited Westminster.