Temer manages a first victory to avoid trial over graft charges
Friday, July 14th 2017 - 07:29 UTC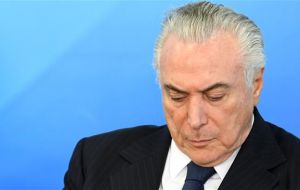 Brazilian President Michel Temer looked on track on Thursday to avoid trial over graft charges, after a committee of lawmakers recommended the accusations against him be shelved ahead of a congressional vote. If the matter is put aside, Temer would win some respite.
Brazil's full Chamber of Deputies is expected within days to vote on whether the Supreme Court should put Temer on trial. The president has denied the allegations that he took a US$150,000 bribe from a meatpacking firm.
Police arrested an adviser of Temer's with a suitcase full of money, which prosecutors allege was destined for Temer as a bribe. An audio recording also emerged of Temer apparently approving the payment of hush money to a jailed ally.
The congressional committee on the constitution, justice and citizenship voted 40 votes to 25 to shelve the accusations. For congress to approve a trial, two-thirds of the 513 deputies have to vote in favor.
The charges on Thursday were the first of several against the president made by Prosecutor General Rodrigo Janot, who has said he will present more in the coming weeks.