Venezuelan bishops call for an end to the "inhuman repression" and appeal to the Armed forces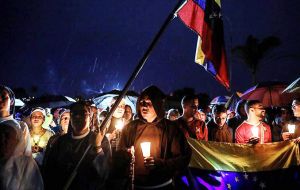 Venezuelan bishops called for an end to the "inhuman repression", urged the government of Nicolas Maduro to hold elections and to dismantle and censure pro-regime civilian armed groups and also addressed the armed forces recalling they must serve the people, not a regime.
At the end of their general assembly, the Venezuelan bishops said, "As shepherds of the Church in Venezuela, echoing the clamors of the immense majority of our people," demand the end of the "inhuman repression," the freeing of political prisoners and the opening of a humanitarian corridor that would allow international aid agencies to bring medicine and food into the country.
Elections, the freeing of political prisoners, and a humanitarian corridor have long been demands of Church officials, and were listed in a December letter signed by the Vatican's Secretary of State and former papal representative in Venezuela, Italian Cardinal Pietro Parolin. His missive was addressed both to Maduro and the opposition.
The bishops' request came in an "Urgent message to Catholics and people of good will in Venezuela," released on Wednesday, at the end of their general assembly.
Opening the message, they offer Pope Francis's greeting and blessing, saying that beyond "following closely the situation of our nation, (he) invites us to look for urgent solutions in peace and concord among all.
"We feel united and in full communion with him, who signaled to us: 'My voice resounds too in the voice of the Venezuelan bishops,'" they wrote.
In the last three months, at least a hundred people have died in clashes between protesters and security forces. The ongoing unrest erupted over plans by Maduro to strip the opposition-controlled National Assembly of power, to once again delay elections, and to rewrite the constitution.
Addressing the security forces in the country, the bishops reminded them that they are called to serve the Venezuelan people, not the regime, party, or leader in power.
"We appeal to the conscience of all the members [of the security forces]: Don't forget that you too are part of the people, and that you will have to answer for your acts both to human and divine justice," they wrote.