Top oil companies plan to invest US$ 1.15bn in Patagonia's shale formation
Thursday, July 20th 2017 - 09:54 UTC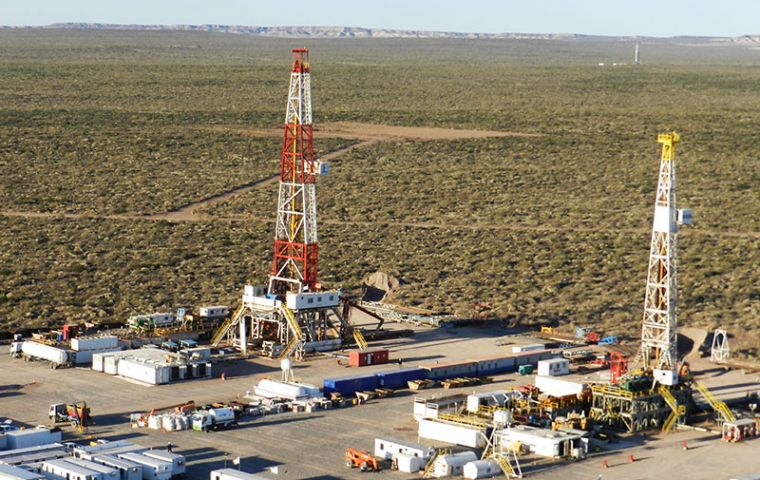 BP unit and subsidiaries of France's Total and Germany's Wintershall have signed an investment agreement with Argentina's state-run oil company YPF to jointly invest US$1.15 billion in the Vaca Muerta shale formation in Argentina.
BP's unit Pan American Energy LLC, Total Austral, Wintershall Energía, and YPF are committing the investment over the next five years to drill more than 60 wells in the Aguada Pichana area, YPF said in a statement.
The partners also agreed to split the Aguada Pichana area into two separate blocks: Aguada Pichana Este (East) and Aguada Pichana Oeste (West), Wintershall said in its release on the agreement, adding that the investment for Aguada Pichana Este specifies investments worth US$675 million in 2017-2021, of which Wintershall carries a share of 22.5%.
The partners—which have already invested around US$500 million from 2014 to 2016—will get an unconventional exploitation concession which lasts 35 years, Wintershall said.
In April this year, Total sanctioned the development of the first phase of its operated Aguada Pichana Este license in Vaca Muerta and increased its interest in the license from 27.27% to 41%, after the Argentine Ministry of Energy and Mines announced a program to boost unconventional gas developments by guaranteeing gas prices until 2021.
Last month, a company spokesman for Pan American Energy told Reuters that the firm would invest around US$ 1.2bn in Argentina this year, including US$400 million in Vaca Muerta.
The investment agreement is the latest sign that Vaca Muerta is increasingly attracting interest by major companies.
Exxon is one such major that plans to speed up investment plans for shale gas drilling in Vaca Muerta. Chevron, too, has been developing areas together with YPF. Argentina's Tecpetrol said in March that it would invest US$ 2.3bn by 2019 in the first phase of the development of the Fortín de Piedra area in Vaca Muerta.