Falklands debates on changes for migrants, work permits and visitors
Friday, July 21st 2017 - 09:51 UTC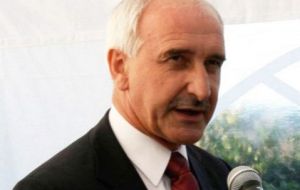 Several proposed changes to the Work Permits system and new categories of permits for visitors and dependents were debated by the Falkland Islands Members of Legislative Assembly last Tuesday at the Select Committee on the Immigration (Amendment) (No 2) Bill.
Under the new proposals, it will no longer be a requirement to hold a work permit for each job that is held, and work permits may last up to four years, rather than the current two.
Visitor permits will be valid for six months, and this can be extended to nine months. Visitors will be required to have valid medical insurance for their stay.
There will also be a category of family visitor permits which allow visits of up to a year.
Holders of visitors permits may apply for temporary work permits, if the work involved is on the Workforce Shortage List, that is, a skill which is in short supply in the Falklands.
Asked if he would clarify the debate in Select Committee about visas, MLA Mike Summers said it arose in Regulations (which are not part of the Bill for Legislative Assembly, but will be submitted to ExCo in due course).
He said: "We have in effect replaced the need for visas with a more detailed permitting system, but we need further work to determine whether it would be wise to dispense with them altogether."
He said they might still be helpful in a number of instances as a form of pre-clearance/document check. However that works will take place separately from this Bill.
He clarified: "The current Ordinance (which is not amended in this respect) requires all nationalities to have a visa, except those exempted by Schedule 1.
The list of exempted countries has not been updated for some time and Select Committee requested that this be done, but since it is a Schedule to the Immigration Ordinance it will have to go to the House for approval. (Penguin News).