Senior Tories support PM May and the removal of any plotter cabinet minister
Friday, July 21st 2017 - 09:02 UTC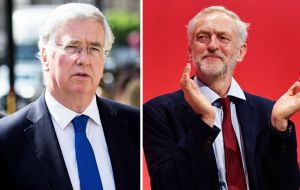 Theresa May has issued a warning to her Cabinet ministers that none of them is "un-sackable". The Prime Minister's comment comes after she was forced to upbraid senior colleagues after an outbreak of vicious briefing against Chancellor Philip Hammond.
Mrs. May received the backing of senior backbenchers to remove any ministers who were found to be plotting against her. And an unnamed minister was quoted by The Times as saying she should sack testosterone-fuelled "donkeys" behind a series of hostile leaks against the Chancellor.
Speaking to LBC Radio in 10 Downing Street, the Prime Minister said: "There is no such thing as an unsackable minister, but at the moment the team is together and we are getting on with the job of delivering what we need to do."
Pressed by presenter Iain Dale over whether any minister was unsackable, she replied: "No."
Mrs. May was forced to tell senior ministers on Tuesday to show "unity" as she urged them to keep details of their discussions around the Cabinet table private. She warned that infighting could result in Labour and Jeremy Corbyn winning power.
Senior members of the 1922 Committee, which represents Conservative backbenchers, indicated there was no appetite for a leadership election and Mrs. May would have their backing if she sacked plotters.
The committee's chairman, Graham Brady, told The Guardian the party was "clear that it is supporting Theresa May and there is no intention of holding a leadership election, which would be a huge distraction from the important job of government".
Nigel Evans, the committee's secretary, told the paper: "The men in grey suits have gone to Theresa and said 'you have our support if you find anyone plotting or on maneuvers to get rid of them'."
Defense Secretary Sir Michael Fallon called for military discipline from ministers to confront the "dangerous enemy" of Mr. Corbyn and defend the Conservative case for sound public finances.
"In this summer of warm prosecco (sparkling wine) I think we in the Cabinet would also do well to reflect on those military virtues: loyalty, discipline, cohesion, that might better enable us first to concentrate our fire on a dangerous enemy in reach of Downing Street – somebody who would lower our defenses, scrap our deterrent, weaken our response to terrorism," he said at a reception on Tuesday hosted by the Policy Exchange think tank.
Mrs May also acknowledged that Tories had "a job to do" to win over young voters, who were widely credited with boosting Labor's vote at the June 8 election. "We have a job to do in getting that message across to people," she said.
"It's a message about jobs and what we are going to do on housing and reassuring young people and giving them confidence in their futures.
"I think a lot of young people do worry about what is going to happen, particularly on housing and what the jobs of the future are going to be and will they be given the skills to take those jobs up."