Mining companies considering expansion in Chile as copper price recovers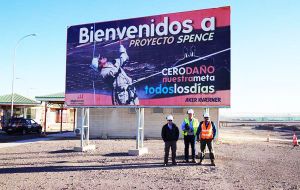 Chilean authorities have approved a US$2.5 billion expansion of BHP Billiton's Spence copper mine, a local newspaper reported, though the company has not yet decided whether to go ahead with the project.
Chile's Environmental Evaluation Service (SEA) has unanimously approved the project, which is the second largest mining investment under evaluation in the country, the El Mercurio newspaper said.
BHP declined to comment on the report, while the SEA did not immediately respond to a request for comment.
The proposed expansion at Spence, which produced 167,000 tons of copper in 2016, would include the construction of a concentrator that would allow the mine to increase production while extending its useful life by 20 years.
Many copper mining companies operating in Chile are seriously considering expansions for the first time in years, as the price of copper slowly recovers from an extended weak period.