NAFTA members agree negotiations round; Mexico insists on strict timetable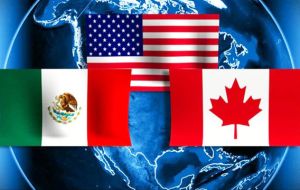 United States, Mexican and Canadian officials have agreed to an aggressive timetable to renegotiate the North American Free Trade Agreement (NAFTA), sources said, aiming to conclude early next year to avoid Mexico's 2018 presidential elections.
The plan is to hold seven rounds of talks at three-week intervals, according to two Mexican officials who asked not to be identified because of the sensitivity of the issue.
Described by one Mexican official as a "very aggressive calendar," the sources said the goal was to conclude the talks before the electoral campaign was in full swing.
Negotiators fear the renegotiation process could become a political punching bag in Mexico due to President Donald Trump's repeated swipes at Mexico and as Andres Manuel Lopez Obrador from the leftist National Regeneration Movement (MORENA) party leads a number of early polls for next year's election.
Trump has pushed for a renegotiation of NAFTA, threatening to dump it if he cannot rework the accord to the benefit of the United States. He argues it has fueled a trade deficit with Mexico and cost thousands of U.S. jobs.
The first round of talks to upgrade the accord underpinning over a trillion dollars of trilateral trade between the United States, Mexico and Canada is due to take place in Washington from Aug. 16-20, U.S. Trade Representative Robert Lighthizer said this week.
The talks will alternate sites among the three countries and the second round is slated to happen in Mexico, one of the Mexican sources said. However, a U.S. Trade Representative spokesperson said the countries have not all agreed to the number of rounds and the frequency of talks.
A well-placed Canadian source familiar with discussions said the United States had proposed the "staggering" schedule but could also not confirm whether an agreement had been reached on the timetable.
U.S. administration officials said Mexico had asked for the negotiations to be completed by the end of the year before the Mexican presidential election heats up.
Lighthizer has said he hopes the negotiations could be wrapped up by the end of the year, while noting that he was not prepared to set a deadline for the talks. John Melle, assistant U.S. trade representative for the Western Hemisphere, will lead the day-to-day negotiations of NAFTA for the United States.
A U.S. administration official and a congressional source said there were growing concerns within the Trump administration, on Capitol Hill and in the business community that Trump policies could embolden anti-U.S. populist Lopez Obrador, who has tapped into Mexico's resentment toward Trump.