Spanish concern with Brexit impacts on Gibraltar's neighboring towns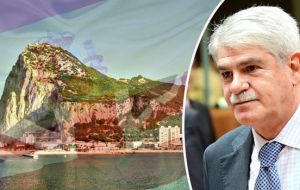 Spanish Minister for Foreign Affairs, Alfonso Dastis, will visit the Campo de Gibraltar in September to discuss the impact of Brexit on cross-border workers and the wider region. The forthcoming visit was announced late Thursday night following a meeting in Madrid between the minister and officials from the Campo.
Antonio Sanz, the Spanish Government's representative in Andalucia, underlined the minister's "firm commitment" to "defending the interests" of the Campo in the face of the "challenges facing the region, particularly in the context of Brexit".
The minister "has demonstrated his support for communities, businesses and workers in the Campo de Gibraltar", Sanz said. No details of the visit have been confirmed as yet.
The meeting in Madrid was attended by Dastis; Sanz; Agustin Muñoz, Madrid's representative in the province of Cádiz; Ignacio Macias, the Spanish Government's coordinator in the Campo and PP councilor in La Linea; Luis Angel Fernandez, the PP chairman of the Mancomunidad de Municipios; and Jose Ignacio Landaluce, the mayor of Algeciras and PP senator.
Also present was Spanish diplomat Julio Montesino, until recently the Ministry for Foreign Affairs' representative in the Campo.