Maersk closer of first gas in North Sea Culzean field; 60.000/90.000bpd expected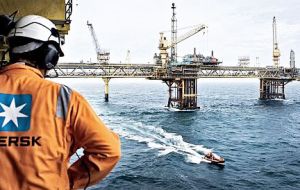 Maersk Oil said on Friday that it had reached another key milestone ahead of first gas from its flagship North Sea Culzean field. All three platform jackets for the £3.3billion project have now been put in place on time and on budget, the company said.
The installation of jackets for the central processing facility and the utilities and living quarters were completed on Thursday. The wellhead platform's jacket was fitted at the site last year. All three structures were built by Heerema an installed using Heerema Marine's Thialf crane vessel.
Culzean lies about 145 miles east of Aberdeen and is expected to produce between 60,000 and 90,000 barrels of oil equivalent at plateau for at least 13 years. The Maersk Highlander rig started drilling the first of six planned production wells on the high pressure, high temperature field in September.
Maersk Oil chief executive Gretchen Watkins said the company was on track for first gas in 2019, but warned against complacency.
Ms Watkins said: "Culzean was sanctioned less than two years ago and already we've progressed the project over the halfway mark.
"We're continuing to hit our milestones on time and this progress means we're on track to deliver first gas in 2019.
"Nonetheless with a project of this size we can't be complacent so we're committed to ensuring remaining work scopes are executed safely and successfully."
Culzean Project Director Martin Urquhart said installing the jacket safely and on time was a great achievement considering the scale of the structures. Urquhart said the jackets had a combined weight in excess of 22,000 tons, the same as about 30 jumbo jets per jacket.
"From the design phase we've been focused on future proofing the Culzean installation, these jackets have a design life of over 40 years, much higher than a typical jacket so will be comfortably capable of serving the duration of production."
He said Maersk Oil's full attention had turned to finalizing the construction of the three topsides and the floating, storage and offloading vessel in Singapore. Urquhart added: "We have just celebrated the completion of the deck stacking of the topsides and the sail away of these structures is on schedule for next year.
"Their installation will take us to the beginning of the hook up and commissioning campaign, the final step before first gas is delivered in 2019."
Maersk Oil operates Culzean and has a 49.99% interest in the project, while BP has a 32% stake and JX Nippon is on 18.01%.