Brenda Hale, named first woman president of the UK Supreme Court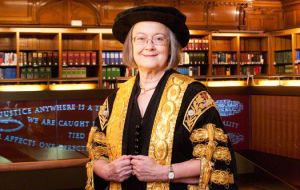 Brenda Hale was appointed as the UK Supreme Court's first female president on Friday, July 21st. The former deputy president of the court for four years will take on the role as the thirteenth President of the Supreme Court on October 2nd, following a line of twelve all-male predecessors.
The victory which Hale's appointment represents for equality is fitting, given the vigor of her past advocacy for a judiciary which must be, yet fails to be, representative.
She has spoken up against the systematic bias in choosing judges, which produces a court which is "not only mainly male, overwhelmingly white, but also largely the product of a limited range of educational institutions and social backgrounds.", The Guardian reports. As the only woman on the UK's highest court since her swearing in as a law lord in 2004, Hale has consistently criticized the singularity of her position.
The Girton College alumnus read law and graduated at the top of her class with a starred first, after which she spent eighteen years in academia as an assistant lecturer in Law at the University of Manchester, whilst studying for the bar exams and ultimately topping her year in the bar finals, after which she began working part-time as a barrister.
An expert in family law, Hale was appointed Queen's counsel in 1989, and subsequently a high court judge in 1994. She is the first high court judge to have made her career as an academic, not a practising barrister, The Guardian reports.
In 1999, she was appointed to the court of appeal — the second woman to do so. In June 2013, she was appointed deputy president of the Supreme Court to Lord Neuberger, a position she has held for the past four years.
Present President Lord Neuberger commented on the appointment, "I have had the pleasure of working closely with Lady Hale over the last five years, and have seen at first hand the intellect and humanity with which she approaches the appeals which come before her, as well as her commitment to the rule of law, legal education and building public understanding of the work of the courts.
"For Lady Hale to become president of the institution to which she has contributed so much is a fitting pinnacle to a truly ground-breaking career."
Speaking of her appointment, Hale said, "It is a great honor and a challenge to be appointed to succeed Lord Neuberger. I look forward to building upon his pioneering achievements, including developing closer links with each part of the United Kingdom, for example by sitting outside London, and improving the ways in which we communicate our work to the public.
"Recent high-profile cases mean that more people than ever before have heard of the supreme court, and we hope that this will help to create a broader understanding of how the judiciary serves society," The Guardian reports.