Falklands war new book says invading Argentines faced fierce defense from Marines and suffered heavy casualties
Monday, July 24th 2017 - 06:09 UTC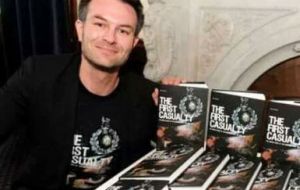 A new book has challenged the official account of the Falklands War, including allegedly one of the worst kept secrets of the conflict. The First Casualty, written by noted military historian Ricky Phillips, reveals that, far from surrendering without a fight when the Argentines invaded the Islands in April 1982, a detachment of Royal Marines battled for more than two hours and killed around 100 of their opponents.
It has long been rumored that the garrison of marines near Stanley mounted a strong defense before Governor Sir Rex Hunt ordered the surrender to save the civilian population three hours after the Argentines landed.
A top Scottish academic has greeted the new book as "important".
Tony Pollard, a professor of conflict history at Glasgow University and an expert on the Falklands, welcomed the publication on Sunday. He said: "This book succeeds in being an important work as it tells for the first time the full story of the fight to defend the Islands.
"There are numerous books on the Falklands War, but most reduce this vital episode down to a few paragraphs before moving on to the better-known battles following the landing of the British task force."
The First Casualty was written after Phillips interviewed survivors on both sides to get the full story. His findings contradict the story told at the time, that the Argentines caught the garrison napping, and also call into question the official history of the conflict.
The book details the initial landing and confrontation, and contains eyewitness testimonies of many more deaths and injuries than was admitted to at the time.
Prime Minister Margaret Thatcher did not want to detract from the "Argentine aggression" story, while the government of General Fortunato Galtieri did not want their heavy casualties revealed. In his blog, Ricky Phillips detailed how participants in the battle contacted him to tell their stories.
He said: "Working with the men of the Royal Marines Naval Party 8901 who defended Stanley on that day, I began to gather interviews. Many wrote down their experiences, there were emails, private messages, hundreds of phone calls, hand-drawn maps, every piece of information fitted into a collage which told a different story — and many of these guys haven't spoken for over thirty years.
"Then came the people of Stanley who were there that night and now we got interesting; personal accounts, private diaries from the invasion, photograph... more than has ever been said about this.
"But then came the real shocker — the Argentines turned up. They weren't happy with this story of a mere 'token defense' or walk-over.
Accordingly a band of 60 Royal Marines fought a three-hour battle, killing as many Argentines without a single casualty. They fired 6,462 rounds before Governor Rex Hunt demanded a ceasefire to save islanders.
Author Ricky D Phillips argues that "When a brave man says with tears in his eyes you've given him his dignity back, you know you've done the right thing"