Falklands' issues Crown coin on 35th anniversary of Liberation Day
Thursday, July 27th 2017 - 15:53 UTC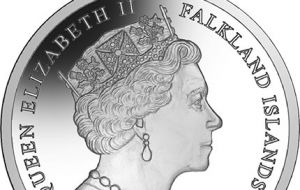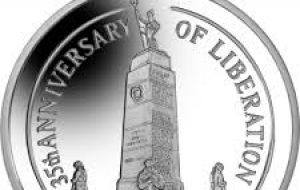 The government and Treasury of the Falkland Islands have issued (11th July) a new crown coin which remembers the 35th anniversary of the day the Islands were officially and wholly liberated from invading Argentine military forces.
The long-running dispute between Britain and Argentina over the ownership of the Falkland Islands was brought to a head on the 19th March 1982, when 50 Argentines landed on South Georgia Island and hoisted their flag.
Under the order of Leopoldo Galtieri, president of Argentina and head of the military junta in charge, the invasion of the Falkland Islands was declared on 2nd April, triggering the start of the war. The Governor of the Islands at the time was Sir Rex Hunt, who before being forced to leave the Islands by the invading forces, put on his full ceremonial uniform, complete with plumed hat, and marched off to meet the enemy at Stanley town hall, where he warned them with these words:
"You have landed unlawfully on British territory and I order you to remove yourself and your troops forthwith".
Sir Rex was removed from the Islands by Argentine forces and flew home to the United Kingdom from Montevideo. The British government, then led by Margaret Thatcher, responded to this attack by sending a large task force to recapture the islands. This force included a member of the British royal family, Prince Andrew, who personally fought in the battle.
The campaign launched by Margaret Thatcher—which probably initiated her nickname of the "Iron Lady"—was one of the most memorable events in post–World War II British history. The British forces operated 8,000 miles from home and in terrible conditions. Almost 1,000 people lost their lives during the 74-day conflict, but the war was brought to an end on 14th June with the surrender of Argentina and the announcement of Britain as the victor. Sir Rex—knighted in October 1982—returned to the South Atlantic after the British military's June victory.
Many veterans and next of kin of those who paid the ultimate price for liberating the islands have visited over the past 35 years. The Falklands Liberation Memorial, a beautiful tribute to our lost soldiers, was erected on the Falkland Islands at the junction of Ross Road and Reservoir Road in Stanley. The monument was funded entirely by Falkland Islanders and was even designed by a Falklands-born architect, Gerald Dixon. The bronze figure of Britannia was sculpted by David Norris and was unveiled on Liberation Day 1984.
The coin is produced by the Pobjoy Mint, United Kingdom, on behalf of the Falkland Islands government and treasury. The reverse side features three soldiers facing away from the monument with their heads bowed and both hands placed on top of a sword in a formation also known as the Prince's Vigil. In the centre is the Falklands Liberation monument crowned with the bronze statue of Britannia.