Brazilian budget remains at record breaking deficit
Saturday, July 29th 2017 - 23:29 UTC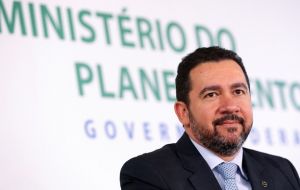 Brazil posted another large budget deficit in June, the biggest on record for the month, highlighting the government's uphill battle to meet its budget target amid a slow economic recovery. The monthly primary deficit, before interest rate payments, narrowed in June to 19.552 billion reais (US$6.21 billion) from 30.7 billion in May.
The deficit in the 12 months through June reached 167.2 billion reais, equivalent to 2.62% of gross domestic product and well above the official target for a deficit of 143.1 billion reais for this year.
Policymakers have frozen about 45 billion reais in federal spending and raised taxes on fuel as they scramble to meet the budget target. Brazil lost its investment-grade rating in 2015 after missing fiscal goals for years.
Fiscal discipline has started to disrupt services such as passport services, raising concerns about the feasibility of President Michel Temer's austerity agenda. Just 5% of Brazilians approve of his administration.
Intent on avoiding disruptions to air traffic control and police patrols, Planning Minister Dyogo Oliveira announced the government would shift 2.2 billion reais (US$700 million) from investments to essential services.
The government has publicly reiterated it will take all necessary measures to meet the target, despite growing media speculation about a potential change.
Oliveira said the government will seek to preserve essential services such as civil defense, federal police investigations and road and air traffic control at the expense of spending on public investments under the so-called PAC program.
The program originally had 36 billion reais earmarked for public investments in 2017 but successive budget freezes have whittled it to 19.7 billion reais.