Brazil's Judge Moro claims there is lack of interest from the political establishment to fight corruption
Thursday, August 3rd 2017 - 21:45 UTC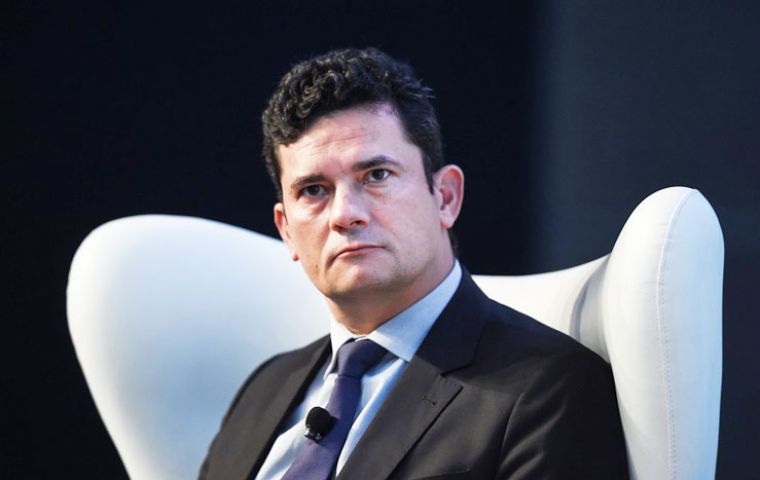 Brazilian federal judge Sergio Moro, the man behind Brazil's largest ever corruption investigation, said there is still lack of interest from the country's political establishment to fight corruption, despite the political and economic crisis the practice sent the country into.
In one of his rare interviews and the first since the conviction of former president Lula da Silva, Moro told Latin American news outlets who comprise the "Investigate Car Wash" cooperative journalism group, that politicians think this is not a task they should consider as their duty.
"Unfortunately, I see the lack of a more vigorous attitude from Brazilian authorities regarding the problem of corruption," said Moro in the interview, which was partially published on Sunday by Brazilian newspaper Folha de S.Paulo.
"There is the impression that fighting corruption is only a task for policeman, prosecutors and judges," said Moro, the judge overseeing the so-called Car Wash investigation that has sent dozens of politicians and businessmen from Brazil's elite to jail.
Earlier this month, Moro sentenced Lula to nearly 10 years in jail after finding him guilty of accepting 3.7 million reais (US$1.2 million) worth of bribes from engineering firm OAS SA, money prosecutors said the company spent refurbishing a beach apartment for Lula in return for his help winning contracts with state oil company Petrobras.
The ruling marked a stunning fall for one of the country's most popular politicians, and a serious blow to Lula's chances of a political comeback. The former president faces four more corruption trials and will remain free on appeal.
Current president Michel Temer also faces accusations of having taking bribes from meatpacker JBS to facilitate the firm's businesses in the country. Brazilian Congress will vote during the week if it allows or not the corruption charge to be sent to the Supreme Court for the leader to be put on trial.
In the interview, Moro hit back at criticism from Supreme Court judge Gilmar Mendes regarding some of the methods used by him during the Car Wash investigation, such as prison orders issued even before the trials.
"Judges have different understandings. There is no extraordinary law in the cases judged here. But in the Car Wash, to interrupt the cycle of crime, some drastic measures were needed," said Moro.