Venezuela military publicly express continued loyalty for president Maduro
Thursday, August 3rd 2017 - 07:45 UTC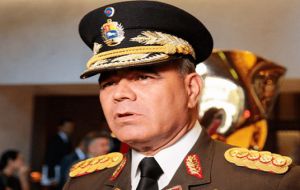 Venezuela's military and cabinet expressed their continued support for President Nicolas Maduro, a day after the United States announced sanctions against the president. The sanctions were in retaliation for defying the White House by refusing to cancel elections for a National Constituent Assembly (ANC) to rewrite the Constitution.
Venezuelan Defense Minister Vladimir Padrino Lopez affirmed that the National Bolivarian Armed Forces (FANB) remained loyal to the president.
"The FANB ... ratifies its unconditional support and loyalty to our Commander in Chief, and reiterates its historic commitment to defend national sovereignty and independence," Padrino said.
According to the electoral authorities, more than 8 million Venezuelans went to the polls on Sunday to elect the members of the ANC, which is to draft a new "improved" constitution.
"We ask for respect for these Venezuelans, because by sanctioning President Nicolas Maduro, they are sanctioning the more than 8 million Venezuelans who went out to vote against all odds," said Padrino.
The White House initially threatened to slap economic sanctions against Venezuela if the vote went ahead. But U.S. President Donald Trump settled on personal sanctions against Maduro.
The measure was just the latest display of U.S. "intervention" in Venezuela's domestic affairs, said Padrino.
Venezuela's Council of Ministers issued a statement read by Vice President Tareck El Aissami to "categorically (reject) the intended sanctions" against Maduro.
"This unacceptable threat ... is a serious aggression (against the Venezuelan people) aimed at silencing the voice of free peoples and their popularly elected leaders," said El Aissami.
Maduro became the fourth head of state named on the U.S. Treasury Department's black list, following Syria's Bashar Al-Assad, the DPRK's Kim Jong Un and Zimbabwe's Robert Mugabe, all labeled "dictators" by Washington.
Also on Tuesday, three lawmakers belonging to Venezuela's United Socialist Party (PSUV) announced they were splitting from the party over the ANC initiative.
Deputy Eustoqui Contreras said he and two other colleagues would form their own voting bloc at the National Assembly, where the opposition holds a majority.
"We have decided to create the Socialist Parliamentary Bloc ... driven by the need to contribute to the study of the solutions that the country's major problems require," Contreras told an assembly session as he read from a prepared statement.