Bumper crops anticipate tough corn battle between leading exporters US and Brazil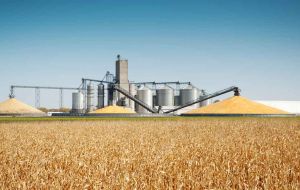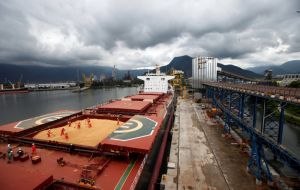 Brazilian farmers are in the midst of collecting their biggest corn harvest ever, and American supplies are also plentiful -- setting the stage for a stiff battle to win world buyers in the second half of the year.
It's a turnaround from just a year ago when U.S. exporters were seeing sales boom as a drought plagued Brazil's fields. This year Brazilian growers had much better weather, and crop supplies have gotten so big that farmers are already short on storage after collecting a large soybean harvest just a few months earlier. That's giving exporters incentive to push corn shipments out quickly and could mean a squeeze for hedge funds that are betting on a price rally.
"Buyers rule in the global corn market this season," Pedro Dejneka, a partner at Chicago-based MD Commodities, said in telephone interview. "Competition between the two major exporters will be tough."
Japan and Mexico are expected to be the biggest corn importers this season, according to the U.S. Department of Agriculture.
Brazil's corn production in the 2016-17 season is forecast to surge 45% from a year ago to a record 106 million tons, according to the USDA. The agency estimates that the 2016 U.S. harvest reached an all-time high and that the crop gathered this fall will be the second-bigger ever. The USDA will make its first survey-based estimates of U.S. production later this month.
Competition has grown for farmers in the U.S., the world's biggest grower and exporter. Brazil, which barely shipped any corn just two decades ago, has since emerged as a significant competitor. Sales are also on the rise from Argentina, which reaped a record harvest this season.
Brazil's shipments normally climb at this time of year, the heart of the country's winter harvest, and its expected exports are the highest ever, according to vessel line-up figures through 2013. U.S. growers will collect their next crop between September and November.
A storage crunch is adding pressure for the market to move grain quickly as the corn harvest advances. The bumper corn harvest has driven domestic prices to the lowest in two years, making supplies attractive to importers.
Meanwhile, U.S. corn shippers are seeing slow bookings for the coming marketing year, which starts in September. The 4 million tons of new-crop outstanding sales as of July 20 were 44% below last year and the lowest for the date since 2010, USDA data show.
The U.S. is expected to remain the world's top corn supplier despite Brazil's surge in production.
Brazil's success in grabbing market share partly depends on moves for the Brazilian real and how many farmers are willing to sell crops at low local prices, said Paulo Molinari, an analyst at Safras & Mercado consulting firm.
The size of the 2017 U.S. corn harvest also remains a key factor to determine the room Brazil can occupy in global trade. Fields are in the midst of the critical pollination phase and won't be harvested for several more months.