Brazilian army troops storm Rio favelas to crack crime gangs
Monday, August 7th 2017 - 21:14 UTC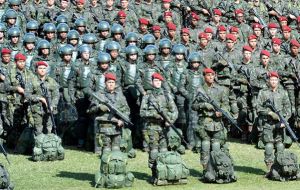 Thousands of Brazilian army troops raided Rio de Janeiro slums in a pre-dawn crackdown on crime gangs over the weekend, leaving parts of the city looking like a war zone on the first anniversary of the opening of the Olympic Games. Five favelas were targeted by around 1,300 police and 3,600 troops in a sweep starting at 4 a.m., the Rio state security service said in a statement.
Their main goal was to stop gangs behind a surge in brazen robberies of commercial trucks, with arrest warrants issued for 40 people. Rio state authorities say there were 10,000 cases of cargo theft last year.
By late afternoon, 24 adults and two teens had been arrested and two killed "in confrontations," Rio state security chief Robert Sa said. A police officer was killed when a bus crashed into his vehicle with two detainees inside.
Twenty-one vehicles, weapons, drugs and goods stolen from trucks were impounded.
But the decision to flood some of Rio's most dangerous streets with heavily armed soldiers also reflected fears that nearly bankrupt post-Olympic Rio is spinning out of control.
The troops were part of 8,500 deployed to the city last month in a tacit acknowledgement that cash-strapped police have lost the ability to cope.
In Lins favela — one of the many little-regulated, and often gang-plagued communities of working class Brazilians that rise on the city's forest-clad hills — soldiers took positions at every crossroads and outside many alleyways.
Troops, backed by camouflaged armored personnel carriers, stood guard with fingers on the triggers of assault rifles. Units of soldiers and SWAT police also roamed the streets in open Jeeps and SUVs, pointing their weapons out of car windows.
Officials said the other favelas targeted were Camarista Meier, Morros de Sao Joao and Engenho Novo in the north and Covanca in the west.
The crackdown came a year to the day after President Michel Temer opened the Olympics in a lavish ceremony at the Maracana football stadium, which is close to Lins favela.
In the first half of this year, Rio tallied 3,457 homicides, the highest level of violence since 2009 and 15% more than during the same period in 2016.
People are killed daily in shootouts between rival gangs competing for control of the favelas or from police action. The shootings, often involving high-powered rifles, also lead to numerous deaths and injuries from stray bullets.
Since the beginning of the year 93 police officers have been killed in Rio state, while units complain of not having enough funds for fuel or even toilet paper.