Spain will not condition a Brexit deal to Gibraltar, but remains firm in its sovereignty claim of the Rock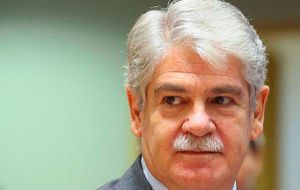 Spain will not risk a Brexit deal by making Gibraltar's sovereignty a condition in the talks, the country's Foreign Minister said in an interview on Sunday. Speaking to the conservative newspaper ABC, Alfonso Dastis said Spain would not accept any agreement that undermined its position on Gibraltar, but would not use the Brexit talks to push its sovereignty aspirations over the Rock.
"We will try to convince the Gibraltarians that [joint sovereignty] is a route worth exploring and that it would benefit them too," he said. "But what I don't want to do is jeopardize an EU-UK agreement by subjecting it to a need to alter Gibraltar's status at the same time."
"I won't make an agreement between the EU and the United Kingdom conditional on recovering sovereignty over Gibraltar."
Since Dastis took over last November, there has been a marked change in Madrid's tone toward Gibraltar, particularly in contrast to the hostile stance taken by his predecessor José Manuel García-Margallo.
Questioned by ABC, Sr Dastis dismissed criticism from hard line Spanish conservatives that he was soft on Gibraltar.
"I give a lot of importance to [the issue of] Gibraltar, [both] as a Spanish claim in order to restore our territorial integrity and as a place where thousands of Spaniards work and where there is an economic, social and human relationship that I want to preserve" Dastis explained.
"What I don't want to do is take any measures that could put at risk the future of those citizens who work on the Rock."
The Foreign Minister made clear, however, that Spain would not accept any Brexit deal that changed Madrid's underlying red lines on Gibraltar. "We won't accept any decision that undermines our claim or acknowledges the UK's jurisdiction over any part of the territory that was not ceded under the Treaty of Utrecht," he said.