Brazil´s annualized inflation in July was 2.71%, the lowest since 1999
Thursday, August 10th 2017 - 20:05 UTC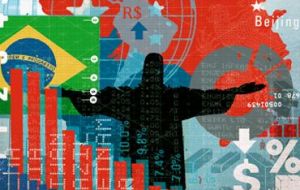 Brazilian prices rose in July at an annual rate of 2.71%, the lowest for 18 years, the government statistics office said Wednesday. This was good news for consumers in Latin America's biggest economy, which is inching out of its deepest recession in history, and was considered likely to lead to sharper interest rate cuts.
The IBGE statistics office said prices rose 0.24% in July from the previous month, which had registered a monthly price drop of 0.23%, the first decline since 2006. By contrast, prices rose 0.52% in July of 2016.
The 2.71% rate for inflation in the 12 months from August 2016 through July was the lowest since 1999.
The overall steady decline in prices points to more aggressive interest rate cuts as the central bank tries to kick-start the moribund economy. Although unemployment is finally receding, it remains painfully high at 13%.
The key Selic rate is currently at 9.25% -- down from 14.25% in October last year -- and could be cut to as low as 7.5%, according to the latest estimate from the weekly Focus survey of economists and investors.