Falklands' SAERI lead in Ascension Island tropical marine research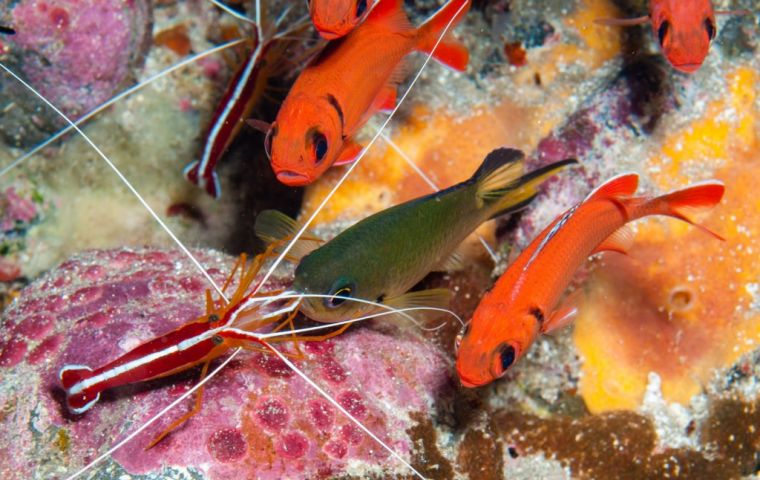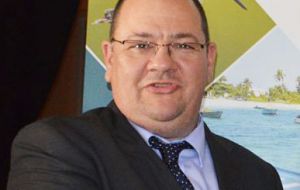 The Journal of Marine Biological Association of the United Kingdom (*) has this month released a special issue focussing on Ascension Island's marine biodiversity. Falklands' based SAERI Director Dr Paul Brickle explained that 20 papers reported on the results of 202 sampling events, comprising a mixture of quantitative SCUBA surveys involving belt transects for fish and mobile fauna and quadrat photography for sessile fauna.
Intertidal surveys and collections and subtidal collections were also carried out. The Issue also reports on the results and findings of the RRS James Clark Ross where the seabed was mapped from 100 -1000m revealing a complex, diverse and variable deep-water environment.
Dr, Brickle said highlights included one new species of alga and two new species of Heterobranch sea slugs, "many new geographical records for fish and invertebrates therefore providing a much improved baseline knowledge of the coastal marine environment and a better understanding of topical Atlantic biogeography."
A checklist of the marine benthic macro-algal flora of Ascension Island (tropical South Atlantic Ocean), based on both new collections and previous literature was produced. 82 marine macroalgae were identified, including 18 green algae, 15 brown algae and 49 red algae.
Dr Brickle said: "Species and infra-specific taxa are reported for the first time from Ascension Island, including seven green, three brown and 28 red macroalgae, raising the total number of seaweeds recorded in Ascension so far to 112 taxa in species and infraspecific level.
"Age and growth of tropical oysters inhabiting rocky outcrops of the tidal zone revealed that they lived longer (up to 26 years) but had slower growth in Ascension Island comparing to those of the same species that inhabit tropical regions of Southwest Asia. That was probably due to comparatively low productivity observed in the central part of the equatorial tropical Atlantic."
Dr Brickle emphasized: "This is an incredible achievement and an exciting new step for Science in the South Atlantic, and in particular for scientific knowledge of marine species and habitats around Ascension Island.
"We are very proud that our collaboration, driven from the Falklands, working with scientists based on all of the South Atlantic Islands, has spear-headed this JMBA special issue. Science and research is about excellence and partnerships and in the South Atlantic I would like to think that we have both. It has been amazing to be able to work with this wonderful consortium of local, regional and international experts on this special issue."
Dr Paul Brewin (Director of the Shallow Marine Surveys Group, based in the Falkland Islands) added: "This series of expeditions has fulfilled a long-time ambition of SMSG. Supported through our local Falkland and overseas volunteer team, we worked alongside our Ascension Island partners for the first time, in helping them address an identified urgent need for baseline, high-quality scientific marine understanding.
Through this work we've built both strong collaborations and lasting friendships with all the team.
Dr Alexander Arkhipkin of the Falkland Islands Government Fisheries Department pointed out that 'it was an exciting opportunity to participate in joint surveys of tropical shellfish and fish faunas on Ascension Island and be able to apply our experience in marine and fisheries studies in waters much warmer than those around the Falkland Islands'. Info SAERI, SMGS, Fisheries Department. (Penguin News)
*Volume 97, Issue 4 (Ascension Island) June 2017.
Glossary courtesy of PN Sessile: (of an organism, eg, a barnacle) fixed in one place. Taxa: Plural of taxonomic group of any rank, such as a species or family, Infraspecific: at a taxonomic level below that of species eg subspecies