Falklands' second Loligo season very promising but by-catch of fur seals forces an exclusion zone
Friday, August 11th 2017 - 07:57 UTC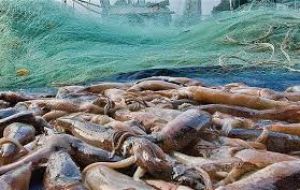 The Falkland Islands second Loligo squid season has taken with very good catches, but good catches also means abundance of the cephalopodus, and... of those sea mammals that feed on them. Because of this a temporary exclusion zone around Beauchene Island was put in place on Thursday making this productive area for Loligo squid out of bounds to fishing vessels.
The action was on the back of reported by-catch of fur seals during a pre-season survey and with the full co-operation of the Loligo Producers Group.
Senior Fisheries Scientist Dr Sasha Arkhipkin explained that the second season of Loligo took off very well with a record catch of squid. "During the first ten days of the fishery, about 8,500 tons of Loligo was caught, which equates to an average of 57 tons per vessel per fishing day."
He said however, that the high catches were aggravated by unusually high by-catch of fur seals that also feed on the dense aggregations of squid.
Dr Arkhipkin said that unfortunately, several dozen of them could not escape from the nets and were drowned.
The Fisheries Department together with fishing companies are making concerted efforts to avoid high seal mortalities. A large Exclusion Zone was established around Beauchene Island where the largest numbers of seals were spotted before the season.
"Since August 10, the whole very productive area for squid to the south of 52°30'S will be out of bounds to any fishing for 10 days," said Dr Arkhipkin. Some vessels try to put seal exclusion devices in their nets, and this is monitored by scientific observers. (Penguin News)