Falklands commends officers, and Toby, for drug seizure in a trawler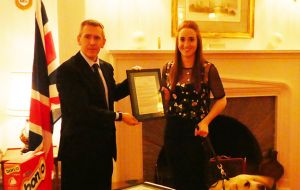 The Falklands government and the UK Ministry of Defense held an event to congratulate officers involved in a drug seizure from a trawler. Corporal Amanda Matthews and Customs Officer Matt Jenkins attended Government House on Tuesday night to receive commendations for their recent successful joint operation which resulted in a drug seizure.
Acting Governor Alex Mitham and Commander British Forces Brigadier Baz Bennett jointly presented the awards, commenting on how it was testament to the cooperation and inter-operability between Falklands Islands Government and the Ministry of Defence, and a clear example of working together to achieve shared goals.
It was the initial detective work by Air Dog Toby, who followed his nose to the Class B drug on board the trawler Golden Chica during a routine search.
The humans then took over, and the trawler crewman was later convicted of importing illegal drugs.
Corporal Matthews and Toby are in the Falklands for a six-month tour of duty, and both seem to be relishing the different challenges the Falklands present. As well as stealing the show at Government House, Toby was presented with a large box of dog treats, which he consumed with enthusiasm. (Penguin News)