Falklands issues coins in recognition of fisheries conservation policies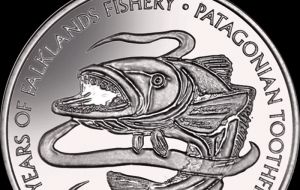 The government and treasury of the Falkland Islands have issued new coins which recognize 30 years of work conducted by the Falkland Islands Fisheries Department (FIS) to help maintain fish populations around the Islands. FIS, responsible for the sustainable development of fisheries in the Falklands, was established in 1987.
Featured on the new coin is the Patagonian toothfish (Dissostichus eleginoides), which is a species of cod found in icy cold waters, primarily in the Southern Hemisphere, at depths of 45 to 3,850 meters.
Patagonian toothfish can grow very large and can weigh up to 100 kilograms and reach 2.3 meters in length, although this is quite rare. It is estimated that they can live for up 50 years and sustain themselves by feeding on squid, small fish, prawns, and crabs. The Patagonian toothfish is widely commercially fished; however, its name is deemed to be unattractive to consumers. In 1977, a fish wholesaler in the United States decided he would sell the species under a different name and chose "Chilean Seabass."
This reference to the toothfish is now recognized by the FDA (Food & Drug Administration) for both the Patagonian toothfish and a close relative, the Antarctic toothfish.
The commercial viability of the toothfish has caught the attention of Britain's Prince Charles, and the widely popular fish is now firmly on his radar and his efforts for conservation. The prince pleaded in letters to Labour Minister Elliot Morley, who served as fisheries minister from 1997 to 2003, to make saving the fish a "high priority" for the government. (The prince's official letters are known as the "black spider" memos due to his scrawling handwriting.) The prince's concern stems from overfishing and illegal fishing, which may ultimately result in the decline of this unusual species.
However the Falkland Islands have played a significant role in the conservation of the species by creating regulated fisheries and collating data from Patagonian-toothfish catches. This system was set up in 1994 with the increase in demersal longline fishing, which targets species at depths of over 600 meters. The reports show that the fish stocks mainly decreased from 1994 to 1999 with the biomass currently at about 50% of what it was in its unexploited state.
The coin is produced in a blue-tinted titanium which reacts differently with every strike. Each Patagonian Toothfish Coin is technically different and varies slightly in color. There is also a lined effect that is present on the coins which is unique to this metal.