Gold Coast 2018 Queen's Baton Relay has arrived in Scotland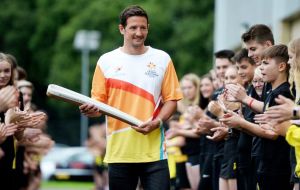 The Gold Coast 2018 Queen's Baton Relay (QBR) arrived in Scotland, marking the 42nd stop on its global tour in the build-up to next year's Commonwealth Games in Australia. The Baton arrived from England and previously from the Falkland Islands (12 to 15 August).
As hosts of the last Games in 2014, Glasgow was the first place to welcome the Baton as it visited a range of youth and community projects with a strong focus on Games legacy.
Michael Jamieson, an Olympic and Commonwealth silver medal-winning swimmer, had the honor of being the first Batonbearer when it arrived at the Glasgow School of Sport, accompanied by Commonwealth Games Federation (CGF) President Louise Martin and Commonwealth Games Scotland chief executive Jon Doig.
They were greeted by the likes of First Minister of Scotland Nicola Sturgeon and Lord Provost of Glasgow Eva Bolander.
Susan Aitken, the leader of Glasgow City Council, and Angela Porter, director of the Glasgow School of Sport, were also present.
Glasgow School of Sport is described as a hotbed of emerging young talent and has contributed numerous athletes for Scotland at the Commonwealth Games and Youth Games, including Jamieson and fellow Baton-bearer, 16-year-old sprinter Lauren Greig.
Accepting the Baton on behalf of Scotland, Doig said: "The Queen's Baton Relay is the iconic symbol of the Commonwealth Games and we are delighted to welcome the Gold Coast 2018 Baton to Scotland today.
"We have had tremendous enthusiasm and support from local authorities, schools and community groups across the country, helping to organize an exciting program of events, using the QBR to connect their communities with the Games and embrace the values of the Commonwealth Movement as a whole.
"The public support Team Scotland enjoyed for Glasgow 2014 was phenomenal and I look forward to seeing that passion sparked once again, as the Baton journeys through Scotland this week."
The Square also witnessed the first meeting of Bonnie the Seal, the new face of the Glasgow 2018 European Championships, and the Glasgow 2014 mascot Clyde.
"It is incredible to think that Glasgow 2014 was three years ago and now Scotland's very best athletes are training hard once again, to qualify for Gold Coast in just eight months-time," Michael Jamieson said.
"Having the Queen's Baton Relay here this week will spur them on even more and it will also help to get the public behind the team, which is really important."
The Baton arrived in England by military aircraft from the Falkland Islands and was parachuted into Royal Air Force Brize Norton in Oxfordshire. The Baton's arrival in Scotland followed the conclusion of its visit to England