Confusion with £1 coins; new 12-sided replacement is being returned by mistake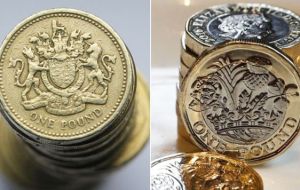 Efforts to phase out the old £1 coin are being hampered by companies who are returning the new 12-sided replacement by mistake. The old round pound ceases to be legal tender on 15 October, with a billion taken out of circulation already. But the removal process is being slowed down because about half of the £1 coins sent back are actually the new style, cash management company Vaultex says.
Treasury minister Andrew Jones said "businesses must remain vigilant". The new coin is being introduced because approximately one in 30 pound coins currently in circulation is a fake, according to the Royal Mint and the 12-sided version is designed to be harder to counterfeit.
Mr. Jones, Exchequer Secretary to the Treasury, said: "There has been a fantastic effort from both the public and businesses in returning more than one billion old round pounds, and I thank everybody involved in this process so far.
"But there is still more to do before the 15 October deadline." He continued: "Businesses must remain vigilant when returning coins and ensure old and new coins are organized in separate packaging to make the sorting process quicker and easier."
Cashiers and shopkeepers working at till points must also "play their part to ensure only new pound coins are given to shoppers in their change", he added.
The government estimates about a third of the £1.3bn worth of coins stored in piggy banks around the UK are the old £1 style. Some of those returned by the public will be melted down and used to make the new version.
After October 15, businesses can refuse to accept the old £1 coin. However they may still be paid into most high street banks, provided the bearer is an account holder. As arrangements will vary from bank to bank, the public are recommended to check with them in advance.
But to avoid any inconvenience, people are being urged to spend or deposit their old £1 coins before that date.
International Development Secretary Priti Patel urged people to donate old pound coins to one of more than 20 UK charities chosen to take part in the UK Aid Match program. The government pledges to match every pound.