Norway's Statoil joins YPF to explore for hydrocarbons in Vaca Muerta shale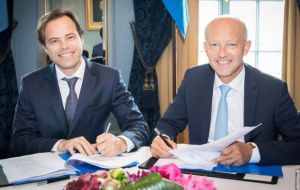 Norway's Statoil, STO and YPF announced an agreement to explore hydrocarbons in the Vaca Muerta shale. Under the terms of the agreement, Statoil will enter the Bajo del Toro license block with a 50% interest. YPF will retain a 50% share and will remain the operator.
Statoil will recognize YPF's past costs incurred in the block and will fund 100% of the cost of certain activities in the future. Bajo del Toro represents almost 39,000 acres in the Neuquén Basin in west-central Argentina.
The Vaca Muerta shale in the Neuquén Basin is one of the most promising shale plays in the world. Tremendous amount of oil and gas in place and generally favorable governmental attitudes toward development have made the play very attractive. YPF has major positions in Vaca Muerta.
In addition, the Vaca Muerta benefits from generally cheaper acreage than most U.S. unconventional resources, so it is easier for a company to acquire a sizeable position. It is one of the few international shale plays that has seen successful development, and many major players are investing money.
In June 2016, for example, ExxonMobil's then-CEO Rex Tillerson stated that the company may spend up to US$10 billion in developing the Vaca Muerta in the next few decades. According to the EIA, the formation holds over 16 billion barrels of shale oil and 308 Tcf of shale gas.
Statoil exploration executive vice president for Tim Dodson stated: "This is a light oil exploration project in a world-class unconventional resource play, the Vaca Muerta formation. The opportunity has an excellent fit with Statoil's sharpened strategy, and is in line with our exploration strategy of delivering profitable, high-quality resources."
YPF Chairman Miguel Angel Gutierrez commented on the agreement, saying "Bringing in a new international player like Statoil into the country shows confidence in Vaca Muerta as a promising shale play and in YPF as a leading operator. We are pleased to expand the cooperation between both companies.