Premier Oil expects 2017 production in the range of 75.000/80.000 boepd
Tuesday, August 29th 2017 - 11:36 UTC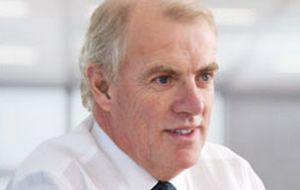 Premier Oil has lifted its full-year production guidance as well as estimated resources at a huge oilfield it discovered off the coast of Mexico. Premier Oil, the operations of which stretch from Indonesia to the Falkland Islands, now expects 2017 production in the range of 75,000-80,000 barrels of oil equivalent per day (boepd), up from the previous forecast of 75,000 boepd, thanks to its strongly performing North Sea fields.
The oil producer, turning a corner after concluding a refinancing deal to survive the oil market downturn, also upgraded its oil-in-place estimates at the Mexican Zama field to 1.2-1.8 billion barrels, compared with a less specific previous forecast of more than 1 billion barrels.
Premier Oil's cash flow from operations rose to US$ 292 million in the first half of the year, up from US$109 million a year earlier, while net debt has fallen to US$ 2.74 billion from US$ 2.77 billion at the end of 2016.
After taking a strong financial blow from the oil downturn that coincided with hefty spending commitments on new fields, Premier Oil is now working on further reducing debt, to be accelerated by the start-up of its North Sea Catcher field by the end of the year.
The discovery of the Zama field, which Wood Mackenzie analysts called one of the twenty largest shallow-water finds in two decades, has provided further momentum for the company.
"Initial scoping estimates are that Zama has very low breakeven, perhaps as low as US$ 28 a barrel. It looks like a world-class asset that will fit well into our portfolio," Premier's chief executive, Tony Durrant said.
The oil producer, which last year bought E.On's North Sea assets for US$120 million, has also reduced development costs at its Tolmount gas field in the North Sea by US$175 million through the sale of its stake in the infrastructure part of the project.