South Korean forces military exercises with live ammunition next to the DMZ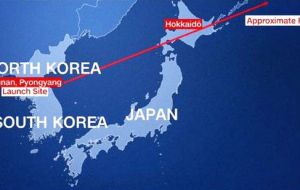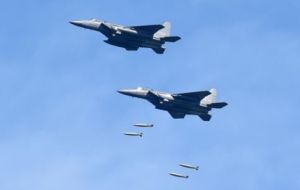 South Korean President Moon Jae-in ordered his country's military on Tuesday to display its capabilities that can overwhelm North Korea should the communist state decide to attack, the presidential office Cheong Wa Dae said.
The order came hours after Pyongyang launched what appeared to be an intermediate range ballistic missile that flew over Japan, according to Cheong Wa Dae officials.
The show of overwhelming force involved the dropping of eight Mark 84 or MK84 multipurpose bombs by four F15K fighter jets at a shooting range near the inter-Korean border in Taebaek, Yoon Young-chan, Moon's chief press secretary, told reporters.
The National Security Council (NSC) convened an emergency meeting following the North Korean missile launch shortly before 6 a.m.
"The NSC standing committee denounced North Korea for violating the U.N. Security Council resolutions by again launching ballistic missiles despite stern warnings," Yoon told a press briefing.
In a telephone conversation that also took place shortly after the latest North Korean missile provocation, South Korean Foreign Minister Kang Kyung-wha and her U.S. counterpart Rex Tillerson agreed to push for additional sanctions by the U.N. Security Council, according to Yoon.
Chung Eui-yong, Moon's top security adviser, also held a telephone conversation with the White House's National Security Adviser H.R. McMaster to discuss the allies' joint measures against the North's latest missile provocation.
"McMaster said President Donald Trump fully supported President Moon's North Korea policy and the South Korean government's measures against North Korean provocations," Yoon said.
Tuesday's missile launch by the North marked the 14th of its kind since the beginning of the year, and the ninth since the Moon Jae-in administration took office in May.
A Cheong Wa Dae official, while speaking on condition of anonymity, said the allies were also considering deploying "strategic" defense capabilities to South Korea without elaborating on what they might include.