Mexico tells "twitter" Trump it will not renegotiate NAFTA via social media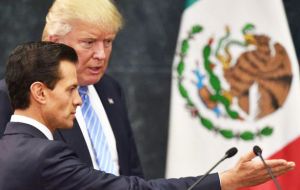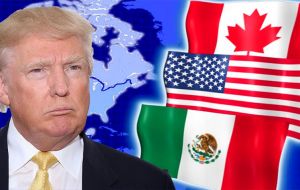 Mexico will not renegotiate the North American Free Trade Agreement or any other aspect of its relationship with the United States via social media or the press, the Mexican government declared Sunday.
Mexico City released the statement in an apparent response to a series of provocative tweets by President Trump in which he called NAFTA the "worst trade deal ever made," argued that Mexico and Canada were being "very difficult" and concluded that he "may have to terminate" the tri-nation trade pact.
During the presidential campaign, Trump repeatedly assailed NAFTA, which went into effect on Jan. 1, 1994, greatly easing trade barriers between the United States, Mexico and Canada. The trade deal, Trump charged, had caused the loss of U.S. jobs to Mexico and the closure of manufacturing plants in the United States.
But, once in office, Trump declined to move quickly to cancel the deal and instead agreed to a complex, tri-national renegotiation process. Many here dismissed Trump's latest Twitter barrage as a negotiating ploy in advance of a second round of NAFTA talks, which are scheduled to take place in Mexico City on Sept. 1-5.
Various U.S. economic sectors, including agriculture and auto manufacturing, have benefited considerably from NAFTA and have expressed concern to the Trump administration about a prospective demise of the trade deal. Still, the president has continued to threaten to cancel NAFTA.
In another Sunday morning Twitter message, Trump labeled Mexico "one of the highest crime Nations in the world," adding: "we must have THE WALL. Mexico will pay for it through reimbursement/other."
The vow to build a border wall — and to have Mexico foot the multibillion-dollar bill — was among Trump's central campaign pledges, extremely popular with many of his supporters. But the plan was widely condemned in Mexico.
In its news release on Sunday, Mexico City reiterated that it has no intention of financing Trump's proposed wall across the almost 2,000-mile-long boundary between Mexico and the U.S.
"Our country will not pay, in no way and under no circumstances, [for] a wall or physical barrier that is constructed on United States territory along the border with Mexico," the Mexican government stated. "This determination is not part of a Mexican negotiating strategy, but is a principle of sovereignty and national dignity."
As for violence in Mexico, the Mexican government cited the "high demand" for drugs in the U.S. as key to the ongoing drug-related turmoil south of the border.