Scotland's Labour leader resigns saying it was time "to pass on the baton"
Wednesday, August 30th 2017 - 07:20 UTC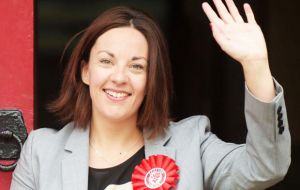 Kezia Dugdale has resigned as the leader of the Scottish Labor, claiming it was time to "pass on the baton". Ms Dugdale insisted she had not been forced to relinquish the role, despite claims supporters of Jeremy Corbyn wanted her out.
The politician told the BBC she had taken over when the party was "on its knees" in Scotland, and had taken the decision to resign in order to allow "time and space" to prepare for the next Scottish Parliament election in 2021.
In a statement, she said it had been an "honor and a privilege" to serve as Scottish Labour leader for two and a half years. Ms Dugdale announced that her resignation would take immediate effect.
She said: "I have thought long and hard about this. I care deeply about the Labour Party - I love it and I have devoted my adult life to serving it in a number of different capacities.
"And I have just come to the conclusion that the best thing for it, the Labour Party, this precious, precious thing that has done so much good in our country, and indeed for me, is to pass that baton on."
Her decision was greeted with well-wishes and thanks from others across the political spectrum.
Jeremy Corbyn said she had played an "important role" in "rebuilding" the party in Scotland.
"Kezia became Scottish leader at one of the most difficult times in the history of the Scottish Labour Party, and the party's revival is now fully under way, with six new MPs and many more to come," he said.
First Minister Nicola Sturgeon tweeted: "We may be opponents, but @kezdugdale led her party with guts and determination and I admired her for that. I wish her well for the future."