May/Abe pledge closer security cooperation; formal trade discussions on Thursday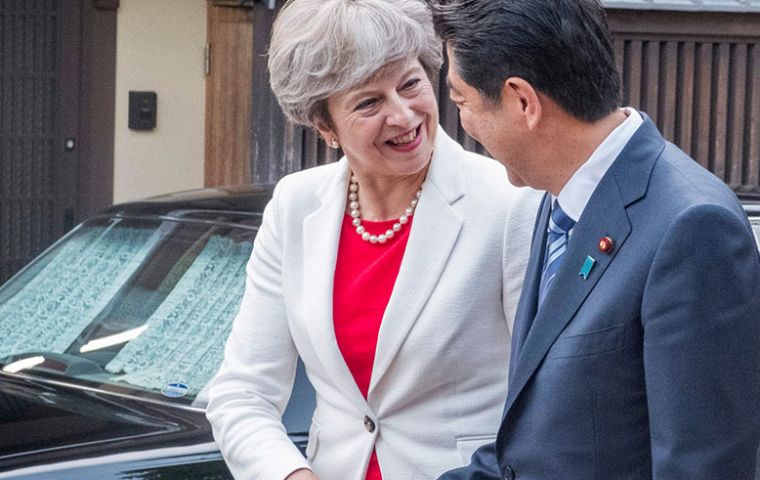 Britain and Japan on Thursday pledged closer cooperation on defense, cyber security and counter-terrorism as Prime Minster Theresa May looks to strengthen relations with one of her closest allies ahead of Brexit. May arrived in Japan on Wednesday afternoon for a three-day visit and met Japanese Prime Minister Shinzo Abe for informal talks over dinner in Kyoto. May also took part in a Japanese tea ceremony
On Thursday, May will visit Japan's flagship helicopter carrier for a military briefing before attending a national security meeting
.
May and Abe will agree on a joint declaration on security cooperation, including plans for British soldiers to take part in military exercises on Japanese soil and for collaboration to address the threat of cyber and militant attacks when Japan hosts the Olympics in 2020.
"I am determined that our defense and security cooperation will continue to go from strength to strength, enhancing our collective response to threats to the international order and to global peace and security," May said in a statement.
North Korea is expected to feature heavily in the talks after Pyongyang launched a ballistic missile test on Monday that passed over Japanese territory, prompting international condemnation. The two leaders are expected to discuss the possibility of further sanctions on North Korea, May's office said.
Following the security briefing, the trip's focus is expected to return to trade and investment, with May keen to persuade investors that Britain's exit from the European Union will not make it a less attractive business partner.
Both May and Abe will address both a travelling delegation of British business leaders, and senior representatives from major Japanese investors in the UK economy such as carmakers Nissan, Toyota and conglomerate Hitachi.
"As we leave the EU, we will work to quickly establish a new economic partnership between the UK and Japan based on the terms of the Japan-EU Economic Partnership Agreement," May will say according to advanced extracts of her speech.
During a two hour train ride between Kyoto and Tokyo late on Wednesday the two leaders discussed Brexit, with May talking Abe through the details of a series of papers published in recent weeks setting out her negotiating position.
Formal trade discussions are scheduled for Thursday, after which both leaders will give a news conference. May will also meet with Emperor Akihito before leaving Japan on Friday.
May said on Wednesday that Japan's upcoming trade deal with the EU could offer a template for a future Japan-Britain trade agreement -- the latest attempt to show investors that Brexit will not lead to an overnight change in business conditions.
Japan has been unusually open about its concerns over Brexit, worrying that 40 billion pounds (US$51.68 billion) of Japanese investment in the British economy could suffer if trading conditions change abruptly when Britain leaves the bloc.