Theresa May in Japan for a round of trade, Brexit outcome and defense talks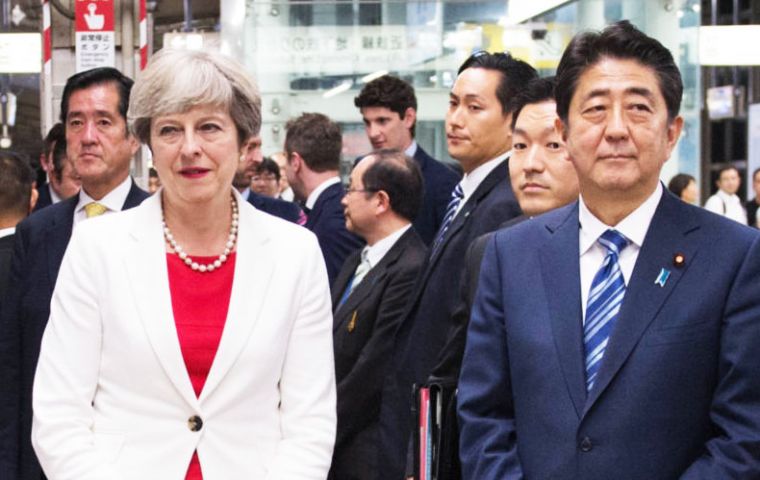 British Prime Minister Theresa May is in Japan for a round of trade and security talks. During her stay, the Mrs. May will hope to further along progress over an "ambitious" trade deal with Japan ready for when Britain quits the European Union.
Her visit to the East Asian nation comes just days after North Korea fired a medium-range missile over the country - raising tensions in the area. She is set to reiterate support for Japan and tell premier Shinzo Abe that she is "outraged" by Pyongyang's firing of the missile.
Mrs. May's trip faces some difficulties, however, as it is believed Japan gives priority finalizing a trade deal with the EU. The Prime Minister wants the agreement between Japan and the EU to resemble the future one with the UK.
But Japanese businesses in Britain, of which there are around 1,000, are said to be "concerned" about Brexit.
Minister for public diplomacy at the Japanese embassy Shinichi Iida said it was "no secret" that Tokyo wanted Britain to remain in the EU and said companies wanted "clarity" over the Brexit process.
Mrs. May said: "Building on our existing ties with friends and allies around the world is vital as Britain prepares for a new era outside the European Union.
"Japan has long been a natural trading partner for the UK as a like-minded nation with a shared belief in free trade and a rules-based international system, and my discussions with Prime Minister Abe will focus on how we can prepare the ground for an ambitious free trade agreement after Brexit, based on the EU-Japan agreement which I very much hope is nearing conclusion."
Downing Street said the Prime Minister's travel plans hadn't changed despite Pyongyang firing a missile over the northern Japanese island of Hokkaido. Mrs. May will become the first European leader to attend a meeting of the Japanese National Security Council.
After arriving in Kyoto, Japan's ancient capital, on Wednesday, she will attend a traditional tea ceremony with Mr. Abe before they head to Tokyo on a high-speed bullet train.
Mrs. May will visit the headquarters of the Japanese maritime self defense force on Thursday where its flagship aircraft carrier Izumo is based and will be briefed by UK and Japanese military personnel on board.