Theresa May says she's "no quitter" and will be around for 2022 election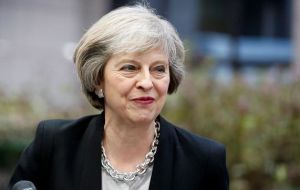 Theresa May has said she will fight the next UK election as prime minister, insisting she intends to remain in power "for the long term". Ms May's promise confounded the expectations of most political observers, who expected her to exit the stage before the next election after losing her majority in the House of Commons at the last ballot this summer.
Asked on the first day of her trip to Japan by both the BBC and ITV if she intended to lead the ruling Conservative party into the next election, penciled in for 2022, she replied "Yes" before underlining her determination to continue. "I am not a quitter," she told ITV. "I'm here for the long term and it's crucial," she said to the BBC.
"What me and my government are about is not just delivering on Brexit. We are delivering a brighter future for the United Kingdom."
The prime minister may be hoping to lay to rest any early talk of succession as the Conservative Party approaches its annual conference in October. There has been speculation over a leadership challenge since her disastrous decision to call a snap election in June.
Conservative MPs had understood from an address by Ms May to Conservative backbenchers immediately after the election that she was focused mainly on steering the UK through its departure from the EU in March 2019 before stepping down.
Many Conservative MPs have been content to let Ms May stay on as party leader, expecting that she would make the hard choices associated with the Brexit process, leaving them free to install a new party head when she departed.
But Ms May stressed, in comments to reporters on the way to Japan and in TV interviews, that she had far wider objectives than merely steering the country through the Brexit process. Her apparent change of heart might prompt some MPs to revisit whether they are content to let her continue in office.
"We need to get the Brexit deal right, deliver the right deal for the people of the UK," Ms May told Sky News. "But we also need to ensure that, after we have left the European Union, global Britain is out there trading around the world, standing tall in the world and that we deal with some of the remaining injustices at home."
Ms May's comments follow a bruising summer in which rival camps among her cabinet have lobbied for a rethink of vital aspects of her policies on Brexit.