Paraguayan guerrillas kidnap two Mennonite farmers in less than two weeks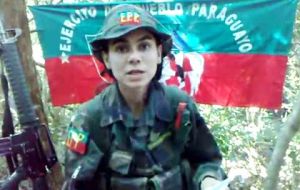 A Paraguayan guerrilla group kidnapped on Friday a young Mennonite farmer in central Paraguay in an area where similar abductions have taken place. Bernard Blatz Friessen, 22, was driving a pickup while his father followed in a harvester, when he was attacked by several men with heavy guns who opened fire on the tires of the two vehicles.
They immediately assaulted the pickup and forcibly took the young farmer in front of the eyes of his helpless father. At first he tried unsuccessfully to run over the kidnappers but they fled into the woods.
The action is similar to that performed by teams belonging to what is known as the Paraguayan People's Army, EPP, a pro Marxist group with Catholic roots operational in the region.
The father immediately cell-phoned a friend to tell him what had happened "the EEP have kidnapped Bernhard". The area where it all happened was in the province of San Pedro to the north of Paraguay, close to Lucipar Estancia (ranch), where several Mennonite colonies (Colonia Rio Verde) have been established for over a century.
Only a couple of weeks ago another Mennonite farmer, 31, was attacked and captured by the EPP a few miles away. Franz Hiebert Wieler was confirmed a kidnapped while the tractor he was driving was set on fire.
Approximately a year ago, 27 August 2016, the EPP kidnapped another young Mennonite farmer, Franz Wiebe, 17, who was finally freed last February following payment of an undisclosed ransom
The EPP is also retaining a police officer, Edelio Moringio, kidnapped in 2014; cattle rancher Felix Urbieta (2016) and a third Mennonite, Abraham Fehr, (2015). The first two are known to be alive, but there has been no life evidence for Franz.
Apparently EPP wants to exchange the police officer for members of the group imprisoned, while for the civilians they are demanding a money ransom and distribution of food among indigenous people in northern Paraguay.
Paraguay created in 2013 a special unit, Police and Army, to combat the guerrillas, the Joint Task Force, FTC, which has been quite unsuccessful so far, with several removals of its commanding officers. The FTC has not managed so far any major victory against EPP, and has been unable to prevent further abductions.
Since president Horacio Cartes took office in August 2013, the EPP has been involved in 16 kidnappings in rural areas and has killed at least 12 members of the security forces in ambushes or combat.