UK ambassador hosts 35 young Argentines awarded Chevening scholarships
Saturday, September 2nd 2017 - 13:14 UTC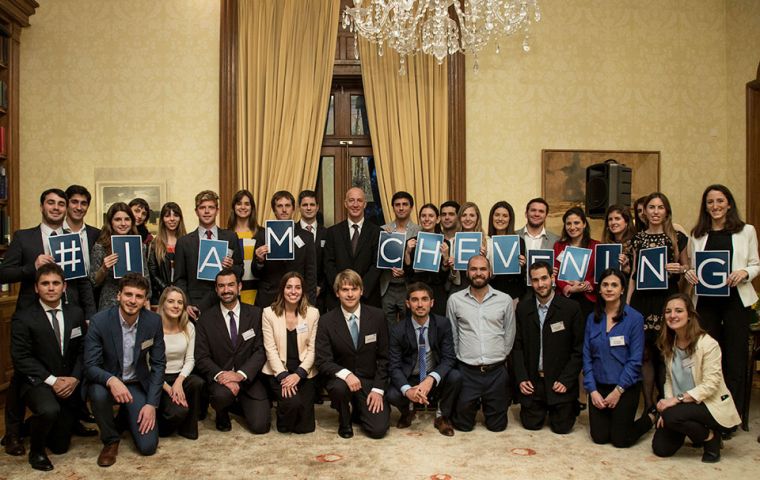 British Ambassador Mark Kent welcomed at his Residence the group of young Argentines who were awarded Chevening scholarships. Ambassador Kent joined members of the Chevening Alumni Association of Argentina and local authorities in wishing a safe and successful trip to the scholarship holders.
In his speech, the Ambassador stressed how the number of Argentine Chevening scholars has reached a record since the arrival of the program to the country in 1991. He also appreciated the diversity of courses and universities chosen by the young students who will spend a year in the United Kingdom.
The Chevening scholarship allows salient youth Argentines to pursue a postgraduate degree program in a British university of choice with all expenses covered.
The 2017/2018 beneficiaries are:
1. Mateo Aguilar – University of Nottingham – Public Policy
2. Juan Aguirre – Queen Mary – Energy and Natural Resources Law
3. Rosario Alioto – LSE – Local Economic Development
4. Luciana Arszt – LSE – Management of Innovation
5. Nayla Attas – LSE – Social Innovation and Entrepreneurship
6. Guadalupe Barrico Prats – UCL – Public Administration and Management
7. Mariana Brandeburgo – LSE – Social Policy and Development
8. Tomas Bunge – University of Warwick – Engineering Business Management
9. Leandro Carbone – University of Greenwich – Strength and Conditioning
10. Tiziano Di Biase – LSE – Economics
11. Sebastian Dieguez – UCL – International Public Policy
12. Jacinta Dillon – LSE – Social Policy and Development
13. Maria Fernandez da Silva Areias – Goldsmiths – Management of Innovation
14. Sergio Giuliano – University of Oxford – Public Policy
15. Angeles Kenny – UCL – Public Administration and Management
16. Maria del Pilar Kusel – UCL – Public Policy
17. Fermin Koop – University of Reading – Environment and Development
18. Eric Machta – University of Manchester – International Development
19. Ana Marasas – University of Birmingham – Public Administration
20. Leandro Marcarian – Birkbeck – Financial Economics
21. Agostina Martinez – UCL – Environment, Politics and Society
22. Mariano Maestro – University of Greenwich – Agriculture for Sustainable Development
23. Pablo Mendez Shiff – Birkbeck – Film, Television and Screen Media
24. Andrea Miranda – Queen Mary – Media Law
25. Luciana Moron – University of Oxford – Magister Juris
26. Federico Origlia – University of Edinburgh – Sustainable Energy Systems
27. Federico Orsi – Loughborough University – Corporate Finance
28. Tomas Otero Curutchet – University of Westminster – Business Intelligence and Analytics
29. Julio Oyhanarte – King's College – Public Policy
30. Natalia Perez Riveros – University of East Anglia – International Social Development
31. Sabrina Ramos – LSE – Public Policy and Administration
32. Ariel Riera – LSE – Media and Communication Governance
33. Melina Scassera - University of Nottingham – Transportation Infrastructure Engineering
34. Carla Torres – University of York – Applied Human Rights
35. Agustina Velazquez – University of Edinburgh – International Business and Emerging Markets