Xi calls on BRICS colleagues to play a bigger role in world governance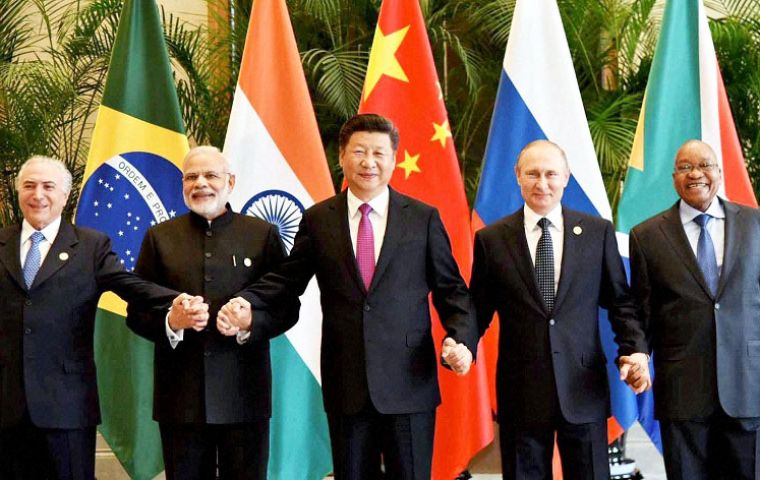 Five major emerging economies opened a summit on Monday to map out their future course, with host Chinese President Xi Jinping calling on them to play a bigger role in world governance, reject protectionism and inject new energy into tackling the gap between the world's wealthy and developing nations.
"We need to make the international order more just and equitable," he told the leaders of Brazil, Russia, India and South Africa in his opening address. "Our ever closer ties with the rest of the world require that our five countries play a more active role in world governance. Without us, ... many challenges cannot be effectively resolved."
Xi said they should "speak with one voice" to jointly present their solutions to global problems and safeguard their common interests.
He also called on his BRICS partners, Brazilian President Michel Temer, Russian President Vladimir Putin, Indian Prime Minister Narendra Modi, and South African President Jacob Zuma to oppose a growing tide of protectionism across the world. The leaders are holding their annual summit in the southeastern Chinese city of Xiamen through Tuesday.
BRICS was formed as an association of fast-growing large economies about a decade ago to advocate for better representation for developing countries and challenge the Western-dominated world order that has prevailed since the end of World War II. It soon achieved agreement to increase the share of voting rights for emerging markets in world financial bodies the International Monetary Fund and World Bank. It has also started operating its own development bank.
Xi wants BRICS to play a more important role in international affairs, even as some observers suggest its power is waning given rivalry between China and India and the economic woes of Brazil, Russia and South Africa.
"BRICS country cooperation is not a talking shop but a task force that gets things done," Xi said in a speech to BRICS business leaders Sunday. "Our goal is to build a big market of trade and investment, promote smooth flow of currency and finance, improve connectivity of infrastructure and build close bonds between the peoples."
The five nations all broadly support free trade and oppose protectionism, although China in particular has been accused of erecting barriers to foreign competition as its own companies buy up others overseas. But Xi has positioned himself as a champion of globalization at a time when his U.S. counterpart Donald Trump is renegotiating the North American Free Trade Agreement and pulled the U.S. out of a planned trade deal with Pacific nations.
Yet clear political and economic differences exist among the BRICS countries. They range from democratic to autocratic, with some maintaining heavy government control over the economy and civil society. And the economies of Brazil, Russia and South Africa are driven largely by raw material exports and have been hit by slumping commodity prices, while China and India are oriented more toward manufacturing and services.
Trade within BRICS is also heavily in favor of China, the world's second-largest economy and a key driver of sustained world economic growth.