Falklands' Darwin cemetery holds 121 single unmarked graves reveals Red Cross
Wednesday, September 6th 2017 - 06:40 UTC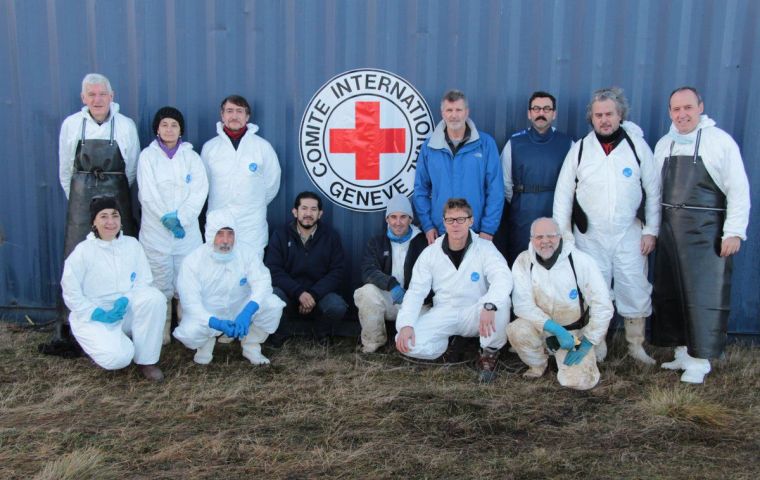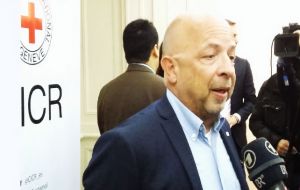 Humanitarian exhumation tasks at the Darwin cemetery in the Falkland Islands unearthed 121 body remains of Argentine combatants, and not 123 as originally expected, revealed the International Committee of the Red Cross, ICRC, during a media conference in Buenos Aires.
"We found 121 graves with a single body. We had received reports, most of which insisted on 123 bodies, but once we started the exhumation task in June by the end of August we had less. What happened? Frankly, I do not know" admitted Laurent Corbaz, head of the ICRC mission in the Falklands tasked with the identification of unmarked remains at the Darwin cemetery.
Three months ago, at the beginning of the exhumation process, Lorenz had admitted that there could be more than one body in each grave, but finally that hypothesis fell through. "Below each cross there was a single body, there were no inconsistencies".
In mid August and before the original timetable, exhumation and reburial of the remains was concluded and the ICRC is now involved in the second chapter of the humanitarian operation in the Falklands. This means the analysis of the DNA samples taken from the remains and matching them with those of the families who agreed to the process.
The second chapter is taking place at the Cordoba anthropology forensic lab and should be over by the end of the year with the drafting of individual and confidential reports to be delivered to the Argentine government and to each of the families. The Cordoba results are double checked in Britain and Spain.
Although following on the original optimism and looking forward to linking the remains to as many families as possible, Corbaz revealed it would be very difficult to obtain a 100% positive result. He added that given the emotional impact of the process, notification to each family could involve months.
The Darwin cemetery or Argentine memorial holds besides the 121 now confirmed unmarked graves, another batch of tombstones clearly identified with their names in white crosses, totaling 230
Corbaz was accompanied at the media conference with Lorenzo Caraffi, ICRC regional chief and Diego Rojas Coronel, head of the ICRC mission in Buenos Aires.