Israel's prime minister Netanyahu will be visiting Argentina next week
Wednesday, September 6th 2017 - 06:55 UTC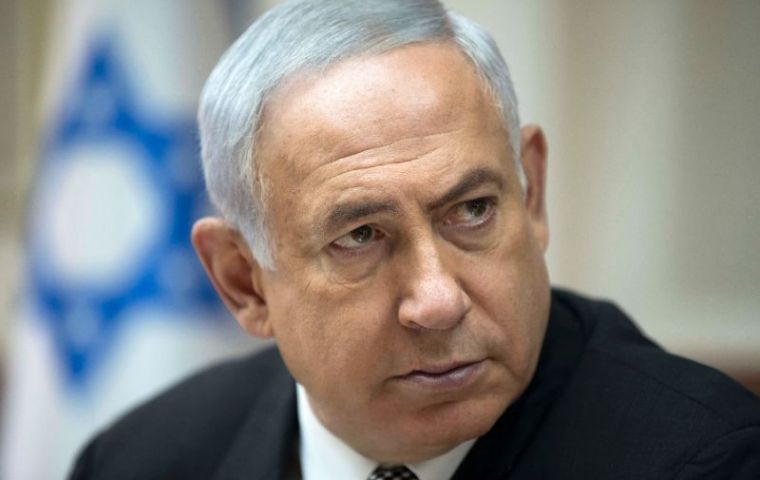 Benjamin Netanyahu will next week become the first sitting Israeli prime minister to visit Latin America on a trip to include a stop in Argentina 25 years after the bombing of his country's embassy there.
Netanyahu will visit Argentina, Colombia and Mexico between September 11-15 before heading to New York for the United Nations General Assembly, officials said on Tuesday. He is also scheduled to meet Paraguay President Horacio Cartes while in Buenos Aires, foreign ministry spokeswoman Michal Maayan said.
Maayan said it would be the first visit to Latin America by a sitting Israeli premier.
The trip to Argentina will have particular significance as Netanyahu will attend memorial ceremonies for the 1992 bombing of the Israeli embassy and 1994 bombing of a Jewish centre there.
The embassy bombing left 29 dead and 200 wounded, with members of the Lebanese Shiite group Hezbollah, and Iran, blamed for the attack. Eighty-five people were killed and 300 wounded in the Jewish centre bombing.
Argentine investigators accuse five former Iranian officials of ordering Hezbollah to carry out that bombing, the deadliest terror attack in the country's history. Iran denies any involvement.
The two attacks devastated Argentina's Jewish population, the largest in Latin America at about 300,000 people.
Netanyahu will begin the trip in Argentina, where he will be September 11-12, followed by Colombia on September 13 and Mexico on September 14. He will meet the presidents of the three countries as well as members of their Jewish communities.
Israel is in constant search of allies who will vote in its favor at UN bodies, where it is frequently targeted over its occupation of Palestinian territory, and such concerns have played a key role in Netanyahu's foreign relations.
It is also a major player in the defense industry, with some US$550 million in exports to Latin America in 2016. During the 1982 Falklands conflict with the UK, the Israeli government of the time was supportive of Argentina.
Israel's high-tech economy also provides expertise in that area plus water technology and agriculture.
A range of businesspeople are expected to travel with Netanyahu.
"There are about 150 Israeli companies functioning in Mexico, over 100 in Colombia, and an increasing number also in Argentina," said Modi Efraim, head of the Israeli foreign ministry's Latin America section.