HMS Prince of Wales officially named at Rosyth Naval Dockyard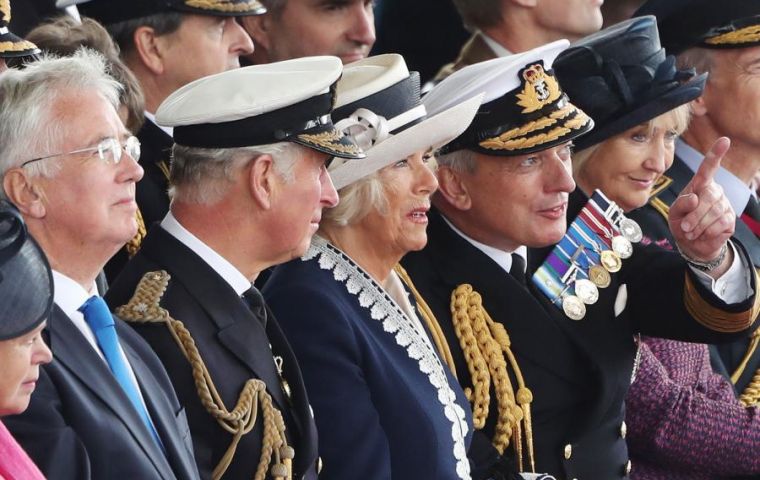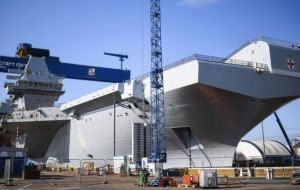 The United Kingdom's second aircraft carrier, HMS Prince of Wales, was officially named at Rosyth Naval Dockyard on Friday. Prince Charles, the man who shares a title with the £3bn vessel, will watch as his wife Camilla, the Duchess of Rothesay, carries out the ceremony.
The new warship is externally complete but it will be 2019 before it can begin sea trials. Its identical sister ship, HMS Queen Elizabeth, arrived in its home base of Portsmouth last month. The 280m long carrier cannot currently deploy planes but flying trials are due to begin next year.
The two new aircraft carriers are bigger than anything ever built for the Royal Navy. Once afloat they will displace 65,000 tons each. They have the capability to carry 36 F35B jets and four helicopters. HMS Prince of Wales is scheduled to be operations in 2023.
Martin Douglass, engineer and director of the Aircraft Carrier Alliance which built the ships, said the Queen Elizabeth had arrived in Portsmouth three weeks ago. "It is in a maintenance period to bring her up to full spec to hand her over to the Royal Navy later in the year."
Mr Douglass said the HMS Prince of Wales was about two years behind the other aircraft carrier. "It has just finished the structural completeness externally and now we are into the outfitting phase."
The engineer said it would take about 18 months to ensure the ship's systems were connected correctly.
The HMS Prince of Wales, like its sister ship, was built at six different yards around the UK before being assembled at Rosyth in Fife. About 10,000 people and 800 different companies have been involved.